Monday 1st June 1998


This on-line paper is now archived for perpetuity in the National Library of Australia
---

Subscriber's password check
(have your subscription number handy)
Subscribers get free access to the monthly "The Strategy" on-line from April 1998.
Recent stories exclusive to (how to) subscribe/rs of the Australian National News of the Day now at the bottom of this page.
---
Current topical links (available to all readers):
[Links to the MAI]
[Queensland One Nation State Election website] [One Nation Federal Web Site]
Archive of weekly features (available to all readers):
[The Canberra Column] [Economic Rationalism]
---
Today's Headlines
an Aussie's viewpoint on Australia's first daily Internet newspaper.
Since

October 1995
Pauline Hanson tackles John Howard on GST
Late last week Pauline Hanson tackled Howard on the costs that GST will add to building a home. Howard weazled his way around the question, leading to a press release which included this extract:
Is the Prime Minister willing to make the commitment that he will stop interest rates from rising and therefore make up for what seems to be a plan to increase the cost of building materials? It is more likely Howard's answer means the GST will make the great Australian dream a further 10% out of reach.
The final stretch One Nation, policies, portfolios and the balance of power in Queensland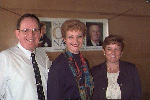 Yesterday I was fortunate to be invited to a gathering of One Nation state candidates at the upcoming elections. (Photo right: Ian Petersen, Pauline Hanson and Heather Hill at Gympie)
State director, Peter James, invited me up to the event and I returned that evening with State leader Heather Hill.
The two hour trip to Gympie gave me time to chat to these key players in the upcoming election.
Of course our favourite lady Pauline Hanson was there as well..... take this link for the full story and images.
Internet Relay Chat on Election Night - 13th June 1998
GWB will have IRC live from the tally room at the convention centre on election night. I will endeavour to get Pauline Hanson and Heather Hill amongst others on the IRC during the evening.
Below are the details on how to participate:
Technical support from Peter Cook - email Peter in need.
Scott Balson, Editor of News of the Day has agreed to use Internet Relay Chat (IRC) to report and monitor the events of election night as it happens. If you already have an IRC client and know how to use it, go to server mpx.sydney.oz.org and channel #GWB. If you are unfamiliar with IRC, here's enough to get you there.
You can get a copy of mIRC for Windows 95 at
ftp://ftp.mira.net.au/mirrors/winsock-l/Windows95/IRC/mirc531t.exe and mIRC
for Windows 3.11 is at
ftp://ftp.mira.net.au/mirrors/winsock-l/winirc/mirc531s.exe
When you have installed it, run it and click on the picture of the author. Then select server OzOrg: AU, Sydney (pick one of them) and enter your name, email address and choose a nickname. Then select 'Connect to IRC Server'. Type #GWB in the channels folder and select Add, then Join. In that channel you will be able to see what is happening on a regular basis, as it happens. Scott will post links to his web site where photos and tables will be available, and discussion of the events of the night will be in the #GWB channel.
IRC allows a real-time medium to convey news of the evening without worrying about proxies and web page updates, and it also lets GWB News of the Day readers the chance to discuss the events of the night in the same place as they happen. It is my hope that this will provide News of the Day readers a chance to be there when One Nation shows that they are the true representatives of Queensland. I hope to see you there!
Komboa Ervin in trouble with the law and squealing again....
Regular anotd readers will remember the pathetic squeals of Lorenzo Ervin and a consortium of singing do-gooders back here in Australia after he was evicted for coming into Australia under false pretences.
Here is an email from the man that we came across showing Ervin's true colours as nothing more than Trouble with a capital "T".
FORWARDED MESSAGE
=======================
Date: Fri, 29 May 1998 12:19:24 -0400 (EDT)
From: "Lorenzo Edward Ervin, jr." lervin@mindspring.com
So much has happened that I don't know where to start. We went to court on May 26th and was given a June 17th court date, which just "happens" to be the date when Mikail will also be tried. They just wanted us to plead guilty, but we want to fight it. Mikail was released the next day after our arrest after we had a press conference and a small picketline protest in front of the jail and the Sheriff's office. He's running for reelection in a tough race and is hyper-sensitive to criticism. So they hurriedly brought the brother downstairs, gave him a bond, after assuring him that he would have to stay in jail until June 17th, the date of his trial. That was a victory.
The day we got to court, we noticed that a TV camerman was right inside the courtroom. The first I have know this to ever be the case. He was there of course to cover us, as the case has elicited intense news interest, it was the lead story on all network news when we were arrested, and spread quickly beyond this city. We were told by the racist judge that we would have our bonds doubled and even be put back in jail if we didn't stay out of trouble, meaning don't do any more such city hall takeovers, set a date for trial and that was it. But that was not really it was about. We are being rushed to jail.
We are not being indicted by a grand jury, the cops and DA are just charging us. We are not even being given a jury trial, the judge will hear our case. We have no attorney, nobody in the city legal community will touch the case. And the whole proceedings are being stagemanaged. Clearly we have to take care of our legal defence, and mount a grassroots political campaign.
We need money, phone calls to the DA, and other help. I will send more information about this later.
Komboa
Voter Confusion on a Hot Controversy
DAVIS, Calif.—In the coffee shop across the street from the Avid Reader bookstore in this college town, David Busse, a University of California psychology student, is pondering the choices he will face Tuesday on the primary election ballot.
For the first time, instead of registered Republicans being handed a roster of GOP aspirants and Democratic voters a list of their party's candidates, California's "blanket primary" ballot will include all contenders of all parties, big and small. From the 17 names he will see vying for governor, Busse is pretty sure he will select Lt. Gov. Gray Davis (D). Echoing Davis's television ads, Busse says, "He has the most political experience of all the candidates."
Ask Busse about Proposition 226, the most heavily advertised of the nine statewide initiatives at the bottom of Tuesday's ballot, and he confesses, "I'm not sure what it's all about." And then he tries to recall what he has gleaned from the $20 million in TV expenditures by opponents and backers of 226. "As it is now," Busse says, "unions have to get permission to donate money to candidates. Under this, they wouldn't. I'm not sure that's a good idea."
A thoughtful response, except that Busse has it backward. The measure, backed by Gov. Pete Wilson (R) and national conservative groups and fiercely opposed by the unions, would impose a new requirement -- annual, written authorisations from each union member -- for labor's political spending.
Busse is smart enough to be thriving in the top rung of the California higher education system, and his confusion is not exceptional. An evening of door-to-door interviews in this highly educated Central Valley community and an afternoon of similar conversations with Californians passing through the airport serving the state capital of Sacramento turn up many examples of voters who are uncertain or misinformed about the most controversial initiative on the ballot.
The confusion could be critical to the outcome of the nationally watched referendum. A Field Institute poll published Friday in several papers said 45 percent of the likely voters support 226 and 47 percent are opposed, a statistical tie. Mervin Field, the poll's founder, says uncertainty almost always helps opponents of an initiative. "When voters have any doubt in mind," he commented Friday, "they vote no."
Field said the confusion factor is high this year because of a flurry of ads urging "No" votes on four separate but similarly numbered propositions: 223 on education funding, 224 on contracting-out of state services, 226 on union dues and 227 on bilingual education. "When you're dealing with three digits and four initiatives are getting heavy play, you get confusion," the pollster said.
Christie Wyman, the wife of a government employee, is such a voter. She says, "I've heard the ads on the TV and I'm confused. I'm going to have to read the voter guide."
She is referring to the blue-and-white ballot pamphlet mailed to every household with a registered voter by Secretary of State Bill Jones. The basic version consists of 76 pages of closely printed information about statewide candidates and initiatives, objective descriptions and analyses, plus statements of support and opposition. There are 34 pages devoted to the statewide initiatives alone.
The voter guide is the last refuge for conscientious voters, battered by an unending barrage of 30-second spots every time they turn on the TV. But as Steve Forbes, owner of the Avid Reader and a Davis city councilman, says, "There aren't many [voters] who do what I do. I refuse to get information from TV. I rely on what's in print," including the voter guide.
Whatever their sources, many voters clearly have figured out what they want to do on the banner contests for governor and U.S. senator and on the two most publicized initiatives, Propositions 226 and 227. The latter would end bilingual education programs and mandate a year of English immersion for Spanish-speaking youngsters. Polls show it winning.
On the union dues issue, voters with clear preferences often echo the language of the TV ads. Janet Das, a Gold River housewife, says, "I don't think it's fair for them to use anyone's union dues for political contributions without permission. I'll vote that way." Then, in a comment worrisome to supporters of 226, she adds, "I'm not sure if that is yes or no. I'll have to look carefully how it's phrased."
The saturation TV campaign mounted by the union side has implanted its message almost verbatim in some voters' minds. John Mayfield of Green Valley says, "I want to read further, but it sounds like a scam to me. It looks like it's for workers' rights, but it's really designed to break the unions. It's not what it claims to be."
While persuading people like Mayfield, the "no" side, which has advertised much more heavily than the proponents of 226, may get some votes from people who've heard that they should vote no, but have mixed up the effects of such a vote.
Among the two dozen voters interviewed here and in Sacramento, three, including Busse, seemed to have the issue backward.
Ramsey Dowell, a federal auditor in Sacramento, says, "I'm against it. If I want my money to go to a particular candidate, I should decide, not the union leaders. They should ask my permission."
Roger Matson, a Stockton retiree, says, "I'll vote no. The money belongs to the people who work for it. The union shouldn't be able to use it for its own purposes."
All those interviewed were asked simply if they had heard or read anything about Proposition 226, the initiative affecting union dues and political contributions, and what was their opinion of it. If they look closely at the 143-word official title and summary that appear on the ballot, people like Busse, Dowell and Matson may realize their mistake.
But a strategist on the "no" side said, "We're not against confusion."
THE BALLOT BATTLE
Over the course of the 1998 campaign, David S. Broder is examining the politics of ballot initiative campaigns -- the people behind them, the money that's spent, and the issues. Does this increasingly popular way of legislating represent democracy at its best, or is it a menace to representative government?
DECIDING FOR THEMSELVES: The initiatives Californians will vote on Tuesday:
Proposition 219
Requires state and local ballot measures to apply in the entire jurisdiction, regardless of how different areas voted.
Ballot measures approved
Anti-affirmative action legislation.
Court consolidation - Proposition 220
Allows consolidation of superior and municipal courts in a county if approved by a majority of the courts' judges.
Judicial officers - Proposition 221
Grants a state commission authority to discipline subordinate judicial officers according to the same standards as judges.
Murder of peace officer - Proposition 222
Makes second-degree murder of a peace officer punishable by life in prison without parole, if aggravating factors are present. Convict cannot earn credits to reduce sentence.
School spending - Proposition 223
Fines school districts that spend more than 5 percent of funds on administrative costs.
Design and engineering - Proposition 224
Restricts state-funded design and engineering contracts, requires cost comparison between private contractors and public employees, and sets requirements for competitive bidding.
Term limits - Proposition 225
Directs state and federal legislators to support a constitutional amendment limiting terms in the U.S. Congress.
Campaign finance - Proposition 226
Requires employee's or union member's permission to withhold wages or dues for political contributions. Prohibits foreign contributions to state and local candidates.
English in schools - Proposition 227
Requires public schooling to be in English, unless parents request otherwise and show certain circumstances. Funds short-term English immersion for children.
SOURCE: California Secretary of State
---
Making the news" -
an indepth exposé of media and political collusion at the highest possible levels in Australia.
---

You say:
Subject: pauline

god!!! what an attractive woman!!!!
i think i`m in love!!!!!
Photo right: One of the world's most beautiful women according to the latest FHM Magazine.
Seems like the media got something right for a change! (Photo taken yesterday at Gympie)
Editor
Subject: 'gays'
Tassie 'gay' Senator Bob Brown (he always looks miserable to me) is reported as saying that if the Howard government blocks the landmark Sexuality Discrimination Bill, it would be compliant in the abuse of 'non-heterosexuals'.
What rubbish. As Senator Abetz remarked, there are already laws against harassment, vilification etc. of homosexuals (whoops, 'non-heterosexuals'). No, gays just want their relationships to be recognised as equal to marriage.
Antonia Feitz
Subject: One nation support
Dear Sir/Madam,
Please send me any information you wish.
I and my family who are part aboriginal agree with you and support you. We believe you will go great in the Queensland election. Us average Aussies are fed up with lies and selfish cowards whose first aim is to look after there own hides.
Thank You
MICHAEL O'NEILL
Subject: Poor distraught Brett Hocking
Brett Hocking wrote: "I was most distraught to see Graham Strachan compare Malcolm Fraser to the great Peter Sellers." I did nothing of the sort. I said this: "Malcolm Fraser reminds me of the character played by Peter Sellers...." If you can't tell the difference Brett, you deserve to be distraught.
Graham Strachan.
Covert Action Quarterly article on ECHELON.
EXPOSING THE GLOBAL SURVEILLANCE SYSTEM
by Nicky Hager
IN THE LATE 1980S, IN A DECISION IT PROBABLY REGRETS, THE US PROMPTED NEW ZEALAND TO JOIN A NEW AND HIGHLY SECRET GLOBAL INTELLIGENCE SYSTEM. HAGER'S INVESTIGATION INTO IT AND HIS DISCOVERY OF THE ECHELON DICTIONARY HAS REVEALED ONE OF THE WORLD'S BIGGEST, MOST CLOSELY HELD INTELLIGENCE PROJECTS. THE SYSTEM ALLOWS SPY AGENCIES TO MONITOR MOST OF THE WORLD'S TELEPHONE, E-MAIL, AND TELEX COMMUNICATIONS.
Subject: poor saps
Perhaps it would be a kindness for somebody to send some complimentary Prozac or Valium to the Sydney Sun-Herald's Alex Mitchell. In an article titled "The Pillage of Idiots" he demonstrated his understanding and love of democracy in these words: "From being a private matter between consenting adults in the privacy of their own homes, membership of One Nation us now out of the closet and openly flaunted", he snarled. Imagine that! Imagine Australians being so so ...unruly! How dare they openly declare their support for a new Party!
He's frothing at the mouth because he and his mates were so up themselves they thought they had locked up Pauline Hanson and One Nation in a closet and had thrown away the key. Poor saps, they really believed their censorship had worked.
Antonia Feitz
Another perfect day in paradise.
Have a good one.
---
Recent stories exclusive to (how to) subscribe/rs of the Australian National News of the Day:
Political Correctness and "racism" exposed.- 30th May 1998
Taking on News Limited at the Australian Press Council in Sydney.- 23rd May 1998
Launch of One Nation's Queensland leadership.- 22nd May 1998
Protest over closure of National Australia Bank branch in Ipswich - 21st May 1998
Pauline Hanson meets the people of Blair - 20th May 1998
Unethical trifecta expose Courier Mail's intellectual prostitutes - 9th May 1998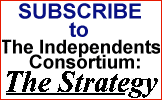 MIGA - son of MAI exposed - 8th May
Just me and Pauline - 5th May
One Nation breakfast - 4th May
Just who are the Mont Pelerin Society - 3rd May
The Internet and the DEATH of the MAI - 30th April
Launch of Pauline Hanson's re-election campaign - 29th April
Second One Nation protest surprises Bob McMullan - 28th April
Sultan of Brunei buys up big tracks of Australia - then negotiates Indonesian "settlements" 25th April
Maritime Union of Australia win in the Federal Court 22nd April
---

Return to Australian National News of the Day
#
---
See GLOBE International for other world news.

---
anotd