Saturday 25th April 1998


This on-line paper is now archived for perpetuity in the National Library of Australia
---

Subscriber's password check
(have your subscription number handy)
Subscribers get free access to the monthly "The Strategy" on-line from April 1998.
Recent stories exclusive to (how to) subscribe/rs of the Australian National News of the Day:
Maritime Union of Australia win in the Federal Court 22nd April
Just who is behind the dock war? 19th April
One Nation Birthday Party on Pauline Hanson's farm 10th-12th April
One Nation state and federal candidates meet in Toowoomba 4th -5th April
Hindmarsh Island Bridge case thrown out by High Court 2nd April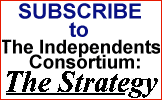 The Hindmarsh Island Bridge farce revealed 31st March
UN agrees to make our fresh water a "global commodity".... beware farmers - your fresh water dam WILL cost you! 28th March
Courier Mail's national affairs reporter Peter Charlton attacks MAI concerns and breaches ethics guidelines 28th March
The US Government's global "Cablesplice" project, fact or fantasy? 26th March


---
Current topical links (available to all readers):
[Links to the MAI]
[Queensland One Nation State Election website] [One Nation Federal Web Site]
Archive of weekly features (available to all readers):
[The Canberra Column] [Economic Rationalism]
---
Today's Headlines
an Aussie's viewpoint on Australia's first daily Internet newspaper.
Since

October 1995
SCOOP:
Sultan of Brunei buys five massive properties in the northern part of Australia - plans to bring in 2 million Indonesians.
The Sultan of Brunei is negotiating with the Australian Government to bring in between two to ten million Indonesians to run his Australian properties according to information supplied to me this morning from a reliable federal source.
You might recall that last year we revealed that Suharto's son-in-law, one of the Bakire brothers, purchased the lease on Australia's largest farm, Tipperary, from an Australian , Warren Anderson, not long ago.
Will this be the channel for a massive influx of Indonesians into northern Australia? Remember that after MAI is signed they will be able to bring in their one "labour" without asking first.
See The Age's comments on Australia's top 20 landholders... Beside being the world's richest man, just who is the Sultan of Brunei?
Well below is a recent press release about his "playboy" brother.

LOS ANGELES (March 6, 1998 9:36 p.m.) -- A federal judge removed Prince Jefri Bolkiah of Brunei from a $90 million lawsuit filed by a former Miss USA, who had claimed she was tricked into a $21,000-a-week job in a ruse to turn her into a prostitute.
U.S. District Judge Consuelo Marshall ruled on Thursday that Prince Jefri, the brother of the Sultan of Brunei, is protected by the Foreign Sovereign Immunity Act and cannot be sued in the United States.
Last year, she dismissed the sultan from Shannon Marketic's lawsuit for the same reason.
A Los Angeles-based talent agency remains a defendant.
"Marketic has had her day in court," the sultan said in a statement Friday.
Marketic's New York lawyer, David Jaroslawicz, called the ruling "totally wrong" and said he would appeal.
"She did not have her day in court. That's what we wanted."
Marketic was Miss California in 1992 and Miss USA 1992-1993.
Her suit claimed she accepted a deal from Kaliber Talent Corp. for promotional work in the oil-rich Southeast Asia kingdom. Instead, Marketic claimed she and six other women were held as virtual prisoners for 32 days and told they were expected to engage in sexual activity at all-night parties.
MUA workforce on hold
The MUA workforce is on hold while Patrick Stevedores take the Federal Court decision to the High Court.
The case is expected to be heard on Monday.
Below we display a graphic of the manner in which Patrick Stevedores have fired their union workforce without benefits and introduced the National Farmers Federation (NFF) contract labour to work their docks: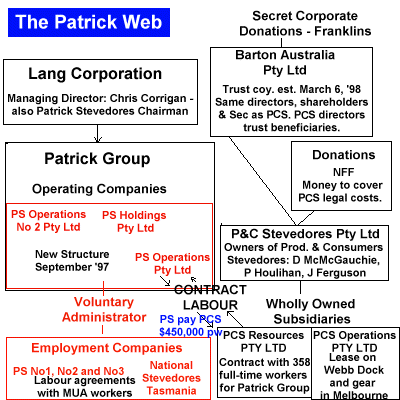 Want more about the New World Order?
The following link carries some concerning material.
---
Making the news" -
an indepth exposé of media and political collusion at the highest possible levels in Australia.
---

You say:
Subject: wharfies
John Howard !
Is it not time to act like a statesman ? Yes, the waterfront needs reform but are you asking that the public is to accept that the wharf labourers are smarter or tougher than you and your associates? As far as the current situation is concerned, if you adopt the morals of the money market, then you must accept the flack.
Finally, do not forget that old Chinese proverb, 'He who lies down with pigs gets covered in shit.'
R.Ross (not a supporter)
Subject: Re: Docks
Thanks Scott
I am against the Wharfies but I am also against the way Patricks and the Libs went about the affair.
I only asked because another one nation membe( a mate) supported the wharfies.
Thanks
Steve
Subject: Experiments in Chile
I've snipped a piece out of the recent post - Ralph Nader on the IMF - some may have missed this as it was nearly at the end of an interesting but long rebuttal of the IMF and its demands for more cahs from the US (amongst others, including NZ which I believe has offered or already given $NZ12 Million)
Nader mentions here a Chilean tax on short term investments similar to what others have mentioned on this list, and what Malaysian PM Mahatir has brought up. I don't know how this Chilean tax works, in fact this is the first I've heard of it but it should be interesting to hear how it has been received and how effective it is.
Incidently, a brief item on National Radio here in NZ about a month ago mentioned that Indonesia was looking at putting on a tax of 5%! on short term currency speculative investments. I didn't hear wrongly; I met someone else who almost fell out of their chair when they heard the same item. But it never appeared anywhere else, either in print, web, or later items. Here's the Nader snip...
...stu
"Especially in wake of the Asian crisis, there are good reasons to believe in the merits of capital controls, such as Chile's effective taxation of short-term loans and investments. Capital controls may also be necessary to maintain national democratic control over economic policymaking, protected in part from the herdlike, faddish influence of the international financial markets. They may be desirable to advance a variety of policy goals, such as community reinvestment or national control over media or natural resources. Most importantly, whether to maintain capital controls, and of what kind, are decisions properly left to elected national governments -- not to the unaccountable IMF bureaucracy."
Social:
What we spend on gambling in Australia:
Per Capita Spending:

| | | | | | | | | | |
| --- | --- | --- | --- | --- | --- | --- | --- | --- | --- |
| | NSW | VIC | QLD | WA | SA | TAS | ACT | NT | Australia |
| Racing | $145 | $124 | $113 | $107 | $84 | $70 | $83 | $202 | $123 |
| Poker Machines | $536 | $425 | $207 | - | $326 | $16 | $525 | $123 | $363 |
| Casino | $78 | $169 | $176 | $290 | $63 | $214 | $79 | $368 | $144 |
| Tattslotto, Lotto | $52 | $75 | $61 | $98 | $56 | $47 | $52 | $89 | $64 |
| Instant Lottery | $13 | $7 | $34 | $23 | $7 | $7 | $15 | $9 | $16 |
| Other | $30 | $4 | $44 | $22 | $35 | $83 | $5 | $14 | $27 |
| Total | $854 | $804 | $635 | $540 | $571 | $437 | $759 | $805 | $737 |
| Change 1995/96 to 96/97 | 6.6% | 22.3% | 8.6% | -7.8% | 8.8% | 5.1% | -4.7% | 3.3% | 10.6% |
My wife and I do not help the figures as we spend about Au$10 per annum on average on pokies....
Another perfect day in paradise. Will be sailing up the Brisbane river on the Kookaburra Queen later today.
Have a good one.
---

Return to Australian National News of the Day
#
---
See GLOBE International for other world news.

---
anotd