Friday 22nd May 1998


This on-line paper is now archived for perpetuity in the National Library of Australia
---

Subscriber's password check
(have your subscription number handy)
Subscribers get free access to the monthly "The Strategy" on-line from April 1998.
Recent stories exclusive to (how to) subscribe/rs of the Australian National News of the Day now at the bottom of this page.
---
Current topical links (available to all readers):
[Links to the MAI]
[Queensland One Nation State Election website] [One Nation Federal Web Site]
Archive of weekly features (available to all readers):
[The Canberra Column] [Economic Rationalism]
---
Today's Headlines
an Aussie's viewpoint on Australia's first daily Internet newspaper.
Since

October 1995
Pauline Hanson announces Queensland State leaders.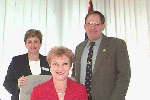 Yesterday I attended the announcement of One Nation's state parliamentary leadership by Pauline Hanson.
In the image on the right Heather Hill (Candidate for Ipswich) the new state leader; Pauline seated at her desk and Ian Petersen (Candidate for Gympie) the new deputy state leader.
At the launch Heather Hill announced her comprehensive state family policies which can be seen here.
I will be in Sydney until Sunday.
At 6.10am this morning I fly out to meet with the Australian Press Council regarding my complaint against the Courier Mail's unethical reporting.
The next news will be posted some time on Sunday.
I apologise for the temporary lack of service....
---
Making the news" -
an indepth exposé of media and political collusion at the highest possible levels in Australia.
---

Another perfect day in paradise.
Have a good one.
---
Recent stories exclusive to (how to) subscribe/rs of the Australian National News of the Day:
Protest over closure of National Australia Bank branch in Ipswich - 21st May 1998
Pauline Hanson meets the people of Blair - 20th May 1998
Unethical trifecta expose Courier Mail's intellectual prostitutes - 9th May 1998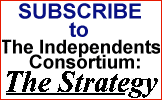 MIGA - son of MAI exposed - 8th May
Just me and Pauline - 5th May
One Nation breakfast - 4th May
Just who are the Mont Pelerin Society - 3rd May
The Internet and the DEATH of the MAI - 30th April
Launch of Pauline Hanson's re-election campaign - 29th April
Second One Nation protest surprises Bob McMullan - 28th April
Sultan of Brunei buys up big tracks of Australia - then negotiates Indonesian "settlements" 25th April
Maritime Union of Australia win in the Federal Court 22nd April
---

Return to Australian National News of the Day
#
---
See GLOBE International for other world news.

---
anotd