Wednesday 22nd April 1998


This on-line paper is now archived for perpetuity in the National Library of Australia
---

Subscriber's password check
(have your subscription number handy)
Subscribers get free access to the monthly "The Strategy" on-line from April 1998.
Recent stories exclusive to (how to) subscribe/rs of the Australian National News of the Day:
Just who is behind the dock war? 19th April
One Nation Birthday Party on Pauline Hanson's farm 10th-12th April
One Nation state and federal candidates meet in Toowoomba 4th -5th April
Hindmarsh Island Bridge case thrown out by High Court 2nd April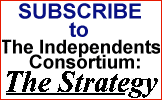 The Hindmarsh Island Bridge farce revealed 31st March
UN agrees to make our fresh water a "global commodity".... beware farmers - your fresh water dam WILL cost you! 28th March
Courier Mail's national affairs reporter Peter Charlton attacks MAI concerns and breaches ethics guidelines 28th March
The US Government's global "Cablesplice" project, fact or fantasy? 26th March


---
Current topical links (available to all readers):
[Links to the MAI]
[Queensland One Nation State Election website] [One Nation Federal Web Site]
Archive of weekly features (available to all readers):
[The Canberra Column] [Economic Rationalism]
---
Today's Headlines
an Aussie's viewpoint on Australia's first daily Internet newspaper.
Since

October 1995
Business v Big Business by Graham Strachan
Extract from the above article: Even up to and including the Industrial Revolution (1759-1850), business was small/medium sized, mostly run by the people who owned it, and financed mainly with their own money (1). In large part the entrepreneurs also recognised that business had social responsibilities. "Humanitarian and Fabian preconceptions in our writing of economic and social history have tended to obscure the older tradition of philanthropy and welfare that runs like a continuous thread through the operations of the greatest of the entrepreneurs."(2)
Plans for the welfare of adult workers and the care and education of child labour were not a monopoly of the humanitarian factory owner Robert Owen. According to Lieberman, Boulton and Wedgwood were not only cultivated men but just employers who regarded a humane code of labour relations as an efficient system of production, and gave a lead to others in such matters as the provision of schemes of social welfare and education.
Hanson visit to northern Queensland eclipses that of Prime Minister John Howard
The trip by Pauline Hanson to northern Queensland has been a phenomenal success with thousands of new One Nation supporters walking out of meetings.
In Gympie some 800 guests attended just one meeting last weekend - phenomenal numbers when you consider that just the week before Prime Minister John Howard had only been able to get about 100 to listen to the "Liberal" message.
The feedback we are getting in northern Queensland is very encouraging with more and more One Nation candidates coming forward to be counted in the upcoming election.
While up north Mrs Hanson endorsed the following candidates in the Townsville area:
Former Labor Party member Mark Swain will contest the Federal seat of Herbert, while in the state seats the new candidates are:
| | |
| --- | --- |
| Candidate | Seat |
| Jeff Knuth | Burdekin |
| Trevor Elson | Mundingburra |
| Ted Ive | Townsville |
| Ken Turner | Thuringowa |
Patrick's and NFF on the backfoot
Yesterday the Federal Court in Victoria ruled that the 1400 sacked Maritime Union of Australia (MUA) workers should be re-instated - a decision which shocked Patrick and the National Farmers Federation (NFF) - which has established a replacement workforce of 400 on the Patrick wharves.
Justice North in making the ruling said, "There is an arguable case that the Patrick owners and the Patrick employers have engaged in an unlawful conspiracy."
Once again the government stepped in on behalf on Patrick Stevedores with Workplace Relations Minister, Peter Reith saying, "My view of the decision is that it is unworkable. This decision attempts to rewrite contracts to place new contractual obligations on the parties.... There is already an appeal process underway."
This appeal resulted in the order that the MUA workers be re-employed being put on hold while the NFF were told to take their contract workers off the Patrick docks.
"Its only the first step but its a pretty significant first step," John Coombs, the MUA boss said on hearing of the court's decision.
Meanwhile, Don McGaughie of the NFF said, "This is an extremely disappointing decision from our point of view. I think that it is the most outrageous decision on the part of the court. It is going to be very damaging to our employees."
"These orders are rather peculiar situation of forcing us to employ a workforce that has spent the last couple of months trying to destroy our company," Chris Corrigan.
Of course the "companies" employing the MUA workforce are in the hands of "liquidators" resulting in the following comments:
From Peter Reith, "This order requires the administrator to operate businesses which on the evidence of the court are not in a solvent position."
"This is a rather unique set of circumstances as you can appreciate, I have never had anyone working me for nothing before," Bill Butterill, administrator of the insolvent Patrick employee companies.
Coombs had an answer for that as well saying, "My solution is that you will go back and work for nothing and the union will support you until you (Patrick) get some cashflow", to the cheers of wharfies gathered below.
And the final word from a government now in damage control.....
"If there is an adverse court judgement given at some time, don't expect me to run around saying don't follow the court's ruling," Prime Minister John Howard said knowing that the control of the situation had now passed from their hands into the hands of the courts - where anything could happen.
Meanwhile Australian Labor Party leader Kim Beazley said that Peter Reith has to go, saying, "The Industrial Relations Minister's use by date not only for this dispute, but for any dispute, has been reached.
"I call upon the Prime Minister today to take the responsibility away from him - to stand him aside from this job and take over the task of finding a solution himself."
Sir James Killen - the Courier Mail's hero - now slated....
Sir James Killen the former Fraser government minister, and widely lauded hero of the people (according to News Limited's The Courier Mail) after saying that he would stand up against Pauline Hanson in the Federal seat of Blair is now finding the blowtorch firmly fixed on him. This follows his complaints about the alleged "amateurish" behaviour of his Liberal colleagues after he lost the selection battle to Cameron Thompson, Joan Sheldon's former chief-of-staff.
Yesterday Local Government minister Alex Somlyay defended John Moore, the centre of Killen's attack, stating that he had been Moore's representative at the pre-selection and that he had "voted for Sir James".
"John Moore gave me no riding instructions on who or who not to support," said Somlyay, "It is unfair of Sir James Killen to accuse John Moore of anything when he was not at the meeting."
Rupert and Anna Murdoch separate
The man described by CNN's Ted Turner "as worse than Adolf Hitler", Rupert Murdoch, yesterday released a statement confirming that he and his wife Anna have separated citing unreconcilable differences as the cause.
The Australian Tax Office to name serious tax offenders
Well, well, well, this could be interesting. The tax office have said that they will name serious tax offenders in a new move to "shame" those caught out.
Well here is a short list that they can start with if they want to be fair dinkum:
The above mentioned parties are the biggest tax cheats in Australia.
The ATO's Commissioner, Michael Carmody, in a report said, "There is a view that holding taxpayers publicly accountable by publishing names may act as a deterrent."
You have my permission to use those named above in your first chapter Mr Carmody.
The Indigenous Land Corporation (ILC)
The ILC is set to become the biggest landholder in Australia thanks to the undemocratic generosity of Australian tax payers and the Australian Labor Party.
Here is an extract from a recent article that appeared in the Australian Financial Review:
About 60% of Australia's 112,000 farms are freehold. Leasehold or freehold, there are 12,700 specialist sheep producers on properties valued at Au$8.1 million, 20,700 beef producers on property valued at Au$16.9 billion, and 7,300 sheep and beef producers on property valued at Au$8.1 billion.
Buying up freehold is a bigger exercise. But this is actually what the corporation is doing, despite the spiritual bonds which Aborigines claim to have with pastoral leaseholds. Only three of the corporation's first 29 purchases are pastoral leases. Why buy leasehold when the High Court gives it to you for the asking?
---
Making the news" -
an indepth exposé of media and political collusion at the highest possible levels in Australia.
---

You say:
Subject: A few words on birthday party
Really great presentation. Your presentation is interesting, captivating and technically well presented. Only one objection. Please don't put Pauline Hanson's name anywhere near the accused murderer Winnie Mandela.
Really great.
Subject: Re: John Sintire's comments
I've said it before, and I'll say it again.. Anyone who cares about Australian jobs should be proud of the sloth on the waterfront. It may be the only way to prevent this country from being totally globalised, and we may even benefit in the process. If the docks work at 100% efficiency, the few industrial jobs that remain will be threatened, because the only thing standing between those jobs and cheap imports is the cost of shipping these cheap products from the sweatshop to Australia.
The situation up until last month was win-win for Australia.. We had a greatly overstaffed waterfront, meaning jobs for otherwise unemployable people, and our industries continue to employ thousands of people.. Those people probably wouldn't have a chance of finding work elsewhere if their jobs disappear, so we have those thousands of people paying taxes instead of receiving welfare.
If the docks are rationalised, the consequences would be obvious
a) Imported goods become cheaper
a1) Sweatshops in the less privileged parts of the world will flourish, meaning more people will suffer in them
a2) Local industries will lose what remains of their ability to compete against cheap imports
a3) Employees of those industries will wind up on the dole queues b) Dock workers will lose their jobs b1) Those otherwise unemployable people will also wind up on the dole queues
c) see a3 and b1: The government will have to pay the dole for those people, and our tax burden will go up
Those people who believe that those who require blood transfusions will suffer because we can't import those glass specimen bottles that the CSL need should consider this. Why does a commonwealth organisation import glass bottles when they could employ Australians to make them.. The cost would be negligible because those people will no longer collect the dole (resulting in a saving to the commonwealth), and they will end up paying taxes. Not to mention that our balance of trade will improve..
The same thing for Toyota.. Being a foreign company they don't care about Australia unless it can earn or save them some money, but if they produce enough cars here to sell on the Australian market while their competition's cars are rusting on the docks, they should be taking advantage of the situation by building the whole car here (including parts), selling them to Australian consumers and gaining more of the Australian car market share..
How about the TCF industry.. With no cheap imports getting through Patrick's docks, they could try and regain part of the Australian TCF market.. Same for nearly every other industry that still operates here..
And why not try and set up an electronics industry here.. The government has shown that it can throw billions of dollars overseas, so why can't it throw a hundred million into its own economy... It would create jobs, plus we already have enough people trained in that industry to get it going straight away, and the wealth created by it would stay in Australia..
Imagine these situations. How many organisations, commonwealth or otherwise import goods that could just as easily be produced here.. what would happen to our unemployment rate.. We'd probably end up with a labour shortage, and that would be in everyone's interests because in a labour shortage, people become more valuable and wages go up..
Isn't that what we all want?
Peter Cook
Subject: Comments on Australian News of the Day
RE : Poor farmers...
I didn't meen to imply in my email that all farmers were like the one I described.
Many of today's small farms and farmers are doing it tough and finding it hard to make ends meet in the face of transnationals doing all in there power to gain a monopoly, just look at the MAI and what it will do to them.
It's a pity that the NFF is just a puppet of the transnationals and no longer has anything to do with the mum and dad farmer.
Regards
Geoff..
Subject: Webb Dock Dispute
I would like to recommend to anyone interested in the background to the dispute to take a look at http://www.actu.asn.au/hottopic/docks/idmtebc.htm
Ron from Swansea
Subject: Details of Waterfront Court Decision
Dear Sir,
Justice North of the Federal Court of Australia has found that 1 The Maritime Union of Australia has established an arguable case that the dismissal of its members by Patricks breaches the employees contract of employment and legislation prohibiting dismissal on the grounds of union membership
2 There is an arguable case that the Patrick group of companies, which effected the dismissals by a complex inter-company transaction, were involved in an unlawful conspiracy.
Justice North therefore issued orders in the nature of injunctions, including an order of reinstatement and a freeze on the disposition of the assets of the Patricks companies . He refused an application by Patricks to stay the effect of the decision.
Patricks is currently appealing to the Full Court of the Federal Court and seeking a stay order from the Full Court. The Australian Government's Minister for Industrial Relations has denounced Justice North's decision as unworkable. The Australian Stock Exchange has suspended trading in Patrick's parent company, the Lang Corporation. Union's are still offering to cease all action but protest pickets at the waterfront in Melbourne are being maintained for the time being until it is certain the reinstatement order is not stayed and is complied with.
Ted Murphy
National Tertiary Education Union
Another perfect day in paradise.
Have a good one.
---

Return to Australian National News of the Day
#
---
See GLOBE International for other world news.

---
anotd