Wednesday 4th March 1998


This on-line paper is now archived for perpetuity in the National Library of Australia
---

Recent stories exclusive to subscribers of the Australian National News of the Day:
Pauline Hanson and the miners 3rd March 1998
The discredited "Bringing them Home" report now on-line 2nd March 1998
Just who owns Westpac? 1st March 1998
Pauline Hanson to run for Blair. 28th February 1998
Sick Uniting Church peddles gay and lesbian behaviour to our kids on TV 27th February 1998
Ipswich City Council relents allowing One Nation to use city buildings 26th February 1998
---
Current topical links (available to all readers):
[Links to the MAI] [Queensland One Nation State Election website]
[Sign the "I'm so sorry Pauline" book]
Archive of weekly features (available to all readers):
[The Canberra Column] [Economic Rationalism]
---
Today's Headlines
an Aussie's viewpoint on Australia's first daily Internet newspaper.
Since

October 1995

International:
THE LIES: INCREASED EMPLOYMENT
Economic Rationalism by Graham Strachan.
Extract from this week's article:
"Several trends are clear: a widening gap in wealth between rich and poor; increasing unemployment, with an increasing component of long-term unemployed; an increase in part-time employment which lacks the security and flow-on benefits of full-time employment; increasing reliance on the small business sector for whatever job creation there is; escalating social problems as workers are laid off from the big business sector; increasing youth hopelessness, and the fourth highest youth suicide rate in the world; a general community obsession with 'a job' and earning a living as the end in life, rather then the means."
Maxine McKeogh of Lateline on the ABC last night discussed the MAI - multilateral agreement on investment with the secretary general of the OECD, Nobble Johnson.
She opens by describing the MAI as a recipe for insuring that foreign investors are treated fairly.... what is MAI, how will it effect us and how will MAI work.
Pauline Hanson, " Our government will in many respects be reduced to simple managers and caretakers for foreigners."
Senator Rod Kemp, "We will only sign a treaty which is in Australia's national interest."
Maxine McKeogh, "... will the treaty mean a shift in the new Balance of Power? That's our story tonight."
"The multilateral agreement on investment (or MAI) it's not the spiciest title in the world, but it is certainly the basis for the mother of all conspiracy theories. They claim that the MAI will give multinational companies power over governments. It will destroy national culture, sovereignty and identity.
"Sir Anthony Mason's comments last night on the issue have certainly lifted debate on the issue... he expressed concerns about the secrecy. The OECD has dismissed such concerns saying that the MAI will create a global level playing field for all foreign investors.... From Australia's point of view the irony is that the negotiations initiated by the previous Labor government are being carried forward by the Coalition normally deeply suspicious of the reach of international treaties.
"Background report by Susanne Smith... Quote by Sir Walter Raleigh (with picture of McDonalds clown in the picture on the television screen), "Whoever commands the trade of the world commands the riches of the world, and hence the world itself."
Tim Deal US Council of International Business, "We think this agreement is very important for bringing forth a higher standard of protection as well as liberalisation of existing investment regimes."
Dr Richard Sanders. Research Economist, Griffith University, "Under MAI they can basically come in take what they want, pack up their bags and leave nothing here."
Of the world's top 100 economic players 51 are multinationals and 49 are governments.
Susanne Smith, "The MAI's main objectives are to open up countries to investment and to protect it to do this countries must agree to three main rules, firstly they must treat foreign companies exactly the same as local ones, secondly they must compensate foreign companies if government interference causes loss of profits and finally they must allow multinational companies the right to sue governments in an international tribunal."
Senator Meg Lees (Democrats), "Well if we refuse Rio Tinto the right to invest in a project that they have chosen to invest in.... it would sue."
Senator Rod Kemp, Assistant treasurer, "Our position in relation to this is prefer them to be settled on a government to government basis and that matter of dispute settlement is still on the table in Paris and as far I have been advised has not been resolved."
Tim Deal US Council of International Business, "Governments maintain the right to carry out the kinds of policies they deem necessary, what is at stake there is an effort to open up the investment regime to make things go quickly, more smoothly, less hassle but with protections, protections for investors and protections for governments its very far short of breaking down sovereignty."
Susanne Smith, "The MAI is also raising another couple of contentious issues. Will it force countries to lower their labour and environmental standards."
Meg Lees, "These companies will find the countries that have the bottom line, they will seek out the countries that have the weakest legislation and I don't think we should be encouraging that."
Rod Kemp, "Meg Lees is wrong we are one of twenty nine countries sitting around the table in Paris and we will be very keen to see that we protect our environmental policies and foreign investment policies."
Sharif Seid, ANU Research School of Social Sciences (on MAI's hidden agenda), "China and India and some of the east Asian countries (not parties to the MAI agreement) will have to comply."
Susanne Smith, "So far developing nations have not been involved in the MAI process."
Tim Deal, "They have been excluded because the members of the OECD countries wanted a high standards agreement.... if you opened this agreement up to the whole world you might have had watered down standards."
Susanne Smith, "Australia has applied for 28 exemptions... Roll back is an integral part of the MAI every year Australia will have to front up to the MAI and justify the existence of our exemption list meanwhile back in Paris the MAI discussions are unravelling the US and Australia are at odds as to whether labour laws should be shielded from the MAI. It is understood the Australian government is keen to push for MAI to be used to create greater flexibility in the workplace. Australia is supported by only Mexico, New Zealand and Korea. As the anti-MAI gathers momentum here both left and right wing elements are converging in their opposition.... they see votes in it"
Pauline Hanson, Member for Oxley, "It is a very serious matter that is of national interest and it is only through yourselves (the media) that Australian can be effectively informed of the treacherous nature of the government's intention to sign away the future of Australians by selling us out completely."
Rod Kemp, "In that area Pauline Hanson is just plain wrong."
Maxine McKeogh introducing her guests to discuss MAI, "Don Johnson is the secretary general for the Organisation of Economic Co-operation and Development (OECD). A lawyer by profession he is also a former Canadian government minister. He joins us tonight from Paris.
"Maud Barlow is co-author of the book "MAI and the threat to Canadian sovereignty". A senior adviser for women's issues in Pierre Trudeau's government she is an outspoken crusader for citizen's rights and she joins us from Ottawa.
" Alan Asher deputy chair of the Australian Competition and Consumer Commission and was Australia's representative on the United Nations Commission on transnationals and has spent twenty years working on economic development in developing countries and he joins us tonight from Canberra."
The interview itself went over old ground deteriorating into a strange alliance between Alan Asher and Nobble Johnson.
Johnson attacked Ms Barlow's position as wrong and claimed that the MAI was always open - a comment which I know for a fact is a blatant lie.
Perhaps the most disturbing comment was that by Asher who said that it is too late... Australia is now 80% owned by transnationals...
The text I highlighted in green is an ABC classic. As soon as Pauline Hanson is about to quoted a comment like this "they see votes in it" is thrown in by the biased presenter. She totally overlooks the fact that it was Pauline Hanson who lifted the lid on MAI in this country... with her press release in January being the catalyst for the debate which is now taking place.
A classic case of re-writing history.
Then today I get a fax from the Queensland Information and Industries Board headed: "Are you interested in business partnering opportunities with multinationals?" promoting a seminar on the Partnership for Development and Fixed Term Arrangement programmes to encourage international companies to do business in Australia....
Maybe I'm blinkered but I won't be going.
Excellent earlier ABC report - Background Briefing (on MAI) - November 1997
Goss government shredding case comes back to haunt....
We have covered at great length the Goss Government shredding scandal, a scandal which, for the Australian Labor Party and their credibility, will just not go away.
It has now been revealed that the whistleblower, Kevin Lindeberg, intends to apply for leave through the Supreme Court to prosecute the entire Labor Cabinet which met on March 5th, 1990.
The meeting ordered the shredding of evidence given at a November 1989 inquiry into the management of Brisbane's John Oxley youth detention centre conducted by retired magistrate Noel Heiner.
The documents were destroyed on the grounds that the inquiry was not properly set up and witnesses were not indemnified and that their evidence was possibly defamatory.
Letters from Lindeberg's legal representatives, Ryan and Bosscher solicitors, were sent yesterday to Attorney-General Denver Beanland, the Director of Public Prosecutions, Royce Miller QC, Police Commissioner Jim O'Sullivan and the Secretary of the Cabinet.
The letter says that Lindeberg intends to apply for leave through the Supreme Court to prosecute the Cabinet and a former public servant alleging that the ministers attempted to pervert the course of justice by ordering the shredding of the documents and that the public servant breached Section 129 of the Criminal Code. The case is a first in Australian legal history and follows closely on a similar shredding case currently being prosecuted in Canada. The Canadian shredding case involves blood bank records.
The Coalition Premier Rob Borbidge's inquiry into the matter by barristers Tony Morris QC and Eddie Howard in 1996 found that the inquiry would not be able to question Goss or his Cabinet as this breached parliamentary privilege. An assessment could not, therefore, be made on whether they committed any criminal offence because current ALP leader Peter Beattie refused to hand over the relevant Cabinet documents.
---
Making the news" -
an indepth exposé of media and political collusion at the highest possible levels in Australia.
---
Political:
Speaker of the Parliament walks out
The Speaker of the House of Representatives, Bob Halverson, yesterday walked off the job because, the ALP allege, the Coalition government were putting pressure on him to treat them softly. It was accepted that the previous Speaker under the ALP was in effect a de facto member of the ALP who showed no balance in his decision making.
Halverson had been told by Howard to treat his government the same as the ALP, but his balanced view started causing stress of late with the likes of Peter Reith claiming that he was actually siding with the opposition.
Following his surprise walk out yesterday at 2pm - while Howard was out of town - the Cabinet met and appointed National Party warhorse Ian Sinclair in his place. Sinclair played a major role in the recent Republican Conference as covered by our Canberra correspondent Peter Mackay.
Just before he left Halverson, on being approached by Beazley, shook his hand. Beazley met with the ex-Speaker twice after this saying that he had resigned because the Coalition government had tried to put pressure on him to treat them more leniently.

You say:
Subject: "disgusting" mardis gras
What is your problem with gay folk?
Why is the Mardis Gras a "disgusting event"?
Why can't a church accept a part of our community?
Why don't homosexuals deserve the same rights and freedoms that your wish to uphold for ordinary Australians?
If there is no reply I will assume that your writings are the hate-mongering of the insecure, however, if you have any reasons for your attack I would be very interested in hearing them.
Gunstone
Subject: A level playing field is....
Following the image that the MAI brought up, the level playing field...
A level playing field is where a multibillion dollar TNC can browbeat a lessor developed country in its own WTO, trade or investment court, or bribe the higher officials to do their will.
A level playing field is where a citizen in a democracy cannot take a TNC into a MAI court, but the TNC can take the citizen's government to court.
A level playing field is where democratically elected governments can be regulated, but TNCs cannot.
A level playing field is one that is tilted 180 degrees.
don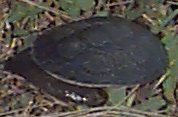 Another perfect day in paradise.
Some images taken earlier this week on the Brisbane River...
Left to right: canoeing just upstream from the global office, a Cormorants nest near the other pic, the global office from the jetty and a baby Brisbane River turtle with its rescuer (caught lost in the garden yesterday afternoon). Alex returned the turtle to the Brisbane river.
---

Return to Australian National News of the Day
#
---
See GLOBE International for other world news.

---
anotd