Australia's first Internet search engine:
Interactive Presentations' Definitive Lifestyle Guide to over 5,000 Australian Webs
known as the Aussie DLG
Enquiry (since 1st July 1995: # 14,036,045
Please note this is an accurate historical archive of Australian web sites as at March 1996.
No additions or deletions to URL's or links have been made since
(ie this is a unique and comprehensive snapshot of Australian webs untouched since March 1996)
---
---
Global recognition received by this site.
---

Text tutorial - for new arrivals.
Image Map link to over

50 major DLG sections.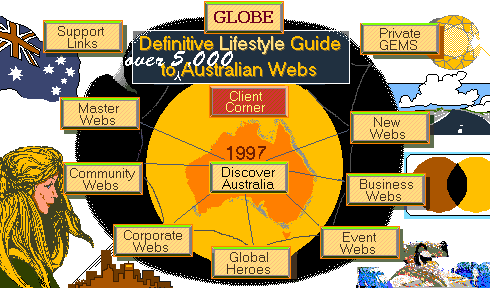 ---
On this day in Australian history in 1925: First-ever broadcast of parliamentary debate.
---
Over 360,000 hits - in one week: February 5th to February 12th 1996.

---
Thought for this day:
"The wildest colts make the best horses" - Plutarch
---
Register your new site
Web Building enquiries (all languages including JAPANESE) phone: (617) 3201 1353
---

Other places to search & latest Internet software for Windows.
---
This Week's Australian Hot Site:

Each week we will pick an Australian site which has something special to offer net surfers.


HOT
---

Return to Supporting Links.

Return to the Definitive LIFESTYLE Guide to (over 5,000) Australian webs.
---
The Definitive Guide is brought to you courtesy of:

Global Web Builders Email: gwb@gwb.com.au
---
---
© Global Web Builders, 1995, 1996, 1997.
---
Programme first posted on 17th June 1995.
Last updated: 8th April 1997.
---