Thought

Poetry alive from the private diaries of Scott Balson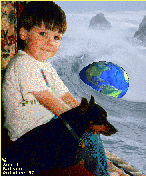 Wandering thoughts in a wandering mind
that maketh man. Or breaketh him.
Rivers of the mind flowing from sources unknown.
Powerful streams, leading man in a never ending course -
Shaped by time, buffeted in the wind and striving for his spirit.
Oblivious of reason, reasoning only unto itself.
Picture: 4 year-old Alex Balson seated with his dog Monty looking out of the window. Sea and globe edited into window. Alex is recognised as the world's youngest web builder with his internationally acclaimed Koala Trouble books. Clickable image - may be copied for private use only.
Copyright, Scott Balson October 1995.
---