Sunday 15th March 1998


This on-line paper is now archived for perpetuity in the National Library of Australia
---

Subscriber's password check
(have your subscription number handy).
Recent stories exclusive to (how to) subscribe/rs of the Australian National News of the Day:
One Nation, the First Year 12th March 1998
Pauline Hanson tackles the MAI in Parliament while the media re-writes history 10th March 1998
Feature: How did the Hanson phenomenon start? 8th March 1998
Presentation on "the level playing field" that ain't 7th March 1998
B A Santa Maria on Australia pre- and post- Hawke. 6th March 1998
Lateline report on the MAI - 80% of Australia's economic activity is controlled by multinationals. 5th March


---
Current topical links (available to all readers):
[Links to the MAI] [Queensland One Nation State Election website]
[Sign the "I'm so sorry Pauline" book]
Archive of weekly features (available to all readers):
[The Canberra Column] [Economic Rationalism]
---
Today's Headlines
an Aussie's viewpoint on Australia's first daily Internet newspaper.
Since

October 1995
First One Nation Queensland street campaign
Yesterday I joined four One Nation candidates, three state and one federal as they pressed the flesh on the street outside a Commonwealth Bank in Mt Gravatt yesterday.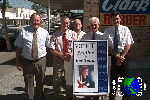 In the picture on the right we have (L to R) Neil Jorgensen (Federal - Griffith); Richard Duffell (State - Mt Gravatt); Don Farquhar (Campaign Manager); Michael Harris-Gahan (Mansfield) and John Maxwell-Jones (Greenslopes).
Later Richard Duffell and Neil Jorgensen visited a local nursing home.
As you will see by following this link it was a very distressing affair - the plight of the old being put into the too hard basket as the Federal and State Governments withdraw funding for the support of these people in the twilight of their years.
Pauline Hanson's One Nation Sydney roadshow continues
Pauline Hanson was well received at two "full house" functions yesterday.
The first, where 260 enjoyed a two course lunch - with the overflow sitting alongside the walls.
Pauline Hanson and Brian Wilshire from Radio 2GB spoke.
David Ettridge commented this morning that he was delighted with the quality and the mix of attendees. Young people, old people, business people and pensioners... all coming to hear the Pauline Hanson message for themselves.
Last night Pauline Hanson spoke to over 500 people at Penrith. Once again it was a "full house".
There was a small peaceful protest with about 40 protesters handing out brochures and waving placards.
Ettridge commented that like the lunch it was an excellent event.
The roadshow continues to be completely ignored by the media....
THREE MILLION (NORTH) KOREANS DIE IN NEW WORLD ORDER GENOCIDE
Last year Pauline Hanson called on the Australian government to send food aid to North Korea. The request is already too late for three million... with the number of deaths through malnutrition expected to double this year alone.
U.S.-sponsored Genocidal Sanctions to Kill Three Million More in 1998?
SEOUL, South Korea, Mar. 13 - There has got to be a better way. What possible justification can any self-respecting "western" regime provide for killing three million innocent human beings on account that they were born of a wrong race, or of a wrong ideology?
Yet, that's exactly what the West, led by the U.S. government, has done in North Korea in the last two years. Please save us the usual New World Order lines, such as that North Korea is one of the last remaining "communist" strongholds which will threaten the Good Old USA. Bull! There are more such communist establishments on Wall Street than in Pyongyang.
So what the U.S. North Korea policy is about is genocide, pure and simple. It's the New World Order at its truest. And ugliest. And at its quietest. For not even a morsel of such devastating news has penetrated the NWO establishment media's reporting about a dire situation in North Korea.
But even as the "Butchers of Wall Street," or "Butchers of Washington" - take your pick - looked the other way, REUTERS reported on Mar. 13 that North Korea had announced a "wartime mobilisation as famine and disease exact an appalling toll in the country."
Pyongyang-based diplomats told Reuters the government had issued a statement to them saying North Korea was being put on wartime mobilisation from midnight on Thursday, Mar. 12. The statement said the mobilisation was in connection with annual springtime military exercises across the country.
It was not immediately clear whether North Korea had declared martial law or if the mobilisation was connected to Pyongyang's recent grave warnings of worsening food shortages. Last week, official media warned the country would run out of grain by mid-March, despite cutting daily rations from 300 grams in January to just 100 grams in March.
On Thursday, Mar. 12, a survey of food refugees along the Chinese border indicated THREE MILLION people died of malnutrition and related diseases over the past two years in North Korea. The Korean Buddhist Sharing Movement said three million more may die this year alone unless urgent measures are taken. It said lawlessness was on the rise in the countryside, where people who have sold their homes and belongings had become wandering thieves, sometimes beaten to death on the spot.
The government statement said: "The whole nation goes into a wartime mobilisation state." Only North Korean citizens would be allowed into the country and foreign citizens would be restricted to the capital of Pyongyang except on official business.
The statement said military commanders would only give permission on a case-by-case basis to foreigners going into the countryside on trips "related to the food assistance." "This means that the wartime system and order applies not only to the regular armed forces, but also to the national economy and overall social life," it said.
The developments came just hours before the United States and North Korea were to hold talks in Berlin on issues such as North Korean missile sales, return of the remains of U.S. servicemen from the Korean War and the genocidal U.S. sanctions.
On Saturday, Mar. 14, officials from the United States, China, North Korea and South Korea are due to hold preliminary talks in Geneva before resumption of formal peace talks on Monday. The historic negotiations -- the first since the 1950-53 Korean War ended in a truce -- opened in Geneva in December 1997. The aim is to replace the fraying 1953 armistice with a permanent peace agreement.
The Pyongyang statement lambasted the United States and South Korea for conducting military exercises in recent months and singled out Seoul for going ahead with a purchase of U.S. weapons despite its own financial crisis. "All this makes us come to an eventual suspicion that the 'four-way' talks described by the U.S. as peace talks might be a smoke screen aimed at attacking us," it said.
North Korea watchers in Seoul said they wouldn't be surprised if all this meant that North Korea was prepared to walk out of the talks.
Wonder why? Not that this writer (TiM editor) holds any brief for the communists, having fought them all his life. But what sort of a New World Order is one which kills millions of innocent civilians for the wrongs of their leaders?
History tells us: It's the COMMUNIST one!
---
Making the news" -
an indepth exposé of media and political collusion at the highest possible levels in Australia.
---
Political:
Queensland State Opposition leader lashes out at Borbidge
Peter Beattie lashed out at Rob Borbidge yesterday as the Liberal Party convention drew to a close in Brisbane.
His comments follow the revelation by Borbidge and Federal Industrial Relations Minister, Peter Reith that Brisbane will be targeted as the first non-union port operated in Australia since the end of World War II.
"It is not by chance that this targeting is happening during the run up to a State election in Queensland," Beattie said.
The National Farmers Federation has a 200 strong non-unionised workforce who have been training on Melbourne's Webb Dock over the last few weeks.
Beattie went on to say that that Borbidge would be willing to use state farmers to try to retain office. "It does not help anyone to see a Coalition Government eager to invite confrontation for possible political gain," he said.
"I believe political support from farmers would simply play into the National Party's hands. Farmers would lose a lot of credibility. I know I would think twice about their credibility."
Meanwhile the ALP's State Secretary Mike Kaiser took the time to accuse John Howard of betraying Queensland.
"John Howard thinks he can run into town for a few days, put on a show and then clear out," said Kaiser. "That's how he has treated Queensland - he has taken Queensland for granted a bit and that's not wise.
"Queenslanders invested heavily in this Coalition Government. Do far they have received very little return on that investment.
"Tourism has been ignored, he has not sorted out Wik despite working on it for 18 months and his Government has pulled regional services such as CES and Social Security. John Howard is leader of the most anti-Queensland Government since the war," Kaiser said.
Before the 1996 elections the ALP held 13 federal seats - now they just hold 2.
Repercussions from the Randall remarks
The impact of the comments by Liberal back bencher Don Randall are starting to flow through with Gareth Evans, accused of having an affair with Cheryl Kernot "the alleycat on heat", spending the weekend with his wife Merran who is extremely upset about the claim.
Ms Kernot returned home to Brisbane yesterday to discuss Randall's comments with her husband, Gavin, and daughter Sian.

Another perfect day in paradise.
Have a good one.
---

Return to Australian National News of the Day
#
---
See GLOBE International for other world news.

---
anotd