Today's Headlines
an Aussie's viewpoint on Australia's first daily Internet newspaper.
Since October 1995


This on-line paper is now archived for perpetuity in the National Library of Australia
Monday 18th August 1997
Associated links:
International:
A panic-stricken News Limited empire is starting to resort to secondary tactics of trying to use their media power to upstage and defeat
Pauline Hanson's One Nation Party.
This active and biased involvement by the editors who play their master's tune has got to be slammed by a society that is not so much under threat from within, but from without as the "international media moguls" of Packer and Murdoch who have no real allegiance to Australia - only to their single minded drive to create wealth and power for themselves irrespective to the damage done to those who would get in their way.
Here is a selection of recent reports in which senior News Limited staff are now trying to tell Coalition bureaucrats how to place their preferences at the next Federal Election:

Crunch time for Howard in race debate - article in The Australian Newspaper 12th August 1997.


Liberal elite plots to seal Hansonís political coffin - article in The Australian Newspaper 13th August 1997.


Liberals and One Nation preferences - editorial the Courier Mail - 18th August 1997.
Recorded - LEST WE FORGET!" There is something sick from within a society when one of its respected church groups has been so infiltrated by the politically correct that they decide to participate in the Sydney Gay and Lesbian Mardi Gras.

Sound far fetched? No, its true. The Uniting church at Paddington in Sydney is putting together a float for this disgusting event. The parish's secretary, Dr Natalie Sims, is reported as saying organisers would encourage homosexual and heterosexual church members to take part.

The decision has resulted in the Sydney Wesley Mission withholding Au$100,000 from the Uniting Church bureaucracy who are now going so far as to prepare for the ordination of gay ministers.

Rev. Dr Gordon Moyes, director of the Sydney Wesley Mission, believes that the leadership has ignored the widespread protests of the "grass roots in the church" by not responding to a number of petitions that have been sent to it protesting about the church's involvement with gay and lesbian issues like these.

Moyes went on to say, "But this issue is not about gay rights, it is about the church's failure to uphold the very basis of its union in 1977, which was to remain true to the Scriptures."

My view is that the gay and lesbian movement has come out of hiding on the back of political expediency and events like the Gay and Lesbian Mardi Gras are nothing more than a sign of how powerful these sick political lobby groups have got through the coercive involvement of the Australian Labor Party in the late 1980s.

While any paedophilia activity is actively hunted down by the authorities and tut-tutting over net-porn continues you have extreme left wing groups like the ALP's cohorts Left Link actively promoting this practice on-line to anybody who wants to give it a go.

On the subject of paedophilia documents released last week show that Queensland's chief-of-police in the 1980s sheltered paedophiles and their activities in this state.

Two convicted paedophiles, police officer David Moore and radio announcer Bill Hurley, were on the Lewis list. Two years before their arrest in 1984 senior officers had evidence which was not acted upon.

A child pornography and prostitution racket called "The Society of Friends" linked the group to the infamous Brett's Boys male brothel in Kelvin Grove. Publicity in 1984 sparked the Sturgess Inquiry into child sex offences.
---

Making the news.

---
Political:
Following John Howard's outburst against the Canberra heroin trials last week, through which free heroin would be provided under controlled conditions to heroin addicts, Health Minister Michael Wooldridge will recommend that the project be scrapped. This follows anger from the Coalition backbench about the proposed scheme.
Queesland's health minister, Mike Horan, one of the few dissenting state health ministers to the trail said yesterday, "I think that some common sense is starting to prevail.
"This trial was never about rehabilitation, it was about a lifestyle."

You say:
Sir,

SUBJECT : Wallace Brown, Sunday Mail.

"Act on Hanson -NOW" headline S.M. 17/8/97, is really saying act on a large proportion of the Australian people. It's her supporters he wants to stop; and there must be a lot of them or the exercise wouldn't be needed if the polls of 6 or 7% are correct. Of course Wallace Brown being where he is would know the true position. Everything we read in the major papers is censored, fabricated, or stupidly mis-reported.

If the polls were anywhere near correct at 7% or higher, and if the BIG TWO AND A HALF really opposed each other, (rather than opposing the people), then wouldn't they be competing for Pauline's preferences?

Remember Mr. Brown, One Nation is not Pauline Hanson alone, It includes me too, and the more you lie and call me racist, when I'm not, the faster our numbers grow.

Tomorrow I'm joining a travelling van covered in Posters carrying the truth. I doubt Pauline even knows about it, so fast is everything happening. I hope we recruit a lot of Aborigines as well; boy. when they know the TRUTH of how they've been conned , watch out.

Philip Madsen

PS
Will the Editor please stop calling Soorely Poody tat, it's turning me against my wife's pussy (cat).

Subject: Comments on Australian News of the Day

"We believe that a great deal of what we have said politically has been right. Our task is still one of getting rid of capitalism. What we mean by that is getting rid of money, wage labour, commodities, the market system, and all of the other social relations of capitalism. The world we put in its place will be stateless."

Weeeelllll, sounds like a good idea, but what will replace it? If the million petition now being got up to save some old forest (which in my opinion could probably do with chopping down, provided a new one + some is already well grown before the chop), has the support that the anti-Vietnam war rallies got, then, sure, that is the way for the people to have their voice heard - probably the only way with the present regime.

Pity that the same millions would not sign a petition to put a stop to a bunch of clerks in banks charging interest on something they do not own anyway. No other similar clerks can charge interest on the numbers they manipulate. Now that is one petition I would sign, but once again; before chopping down the old one, a better one must first be well grown in parallel with the old before the change.

The Stone Society has some good ideas in that regard, but until the whole world is dragged out of its ignorance and poverty of spirit I can not see it happening; the mugs are too addicted to TV and 'news'papers, and emotion is what drives the herd, not brain. One only has to notice the fads like 4 wheel drive vehicles, hair do's, clothes, and a host of other irrational motives like what drive the stockmarket to see that the social engineers are pissing into the wind (to quote a colloquialism). Still, the little red head from Oxley may just surprise the pundits. Change is a blowin in the wind!

I believe the world will one day be stateless, but only after Mars has been populated, and the corporate media has been chopped off at the knees. Maaayyybbbeee some other millenium perhaps.

Ormond Thomas
Business:
A huge sell off in Australian shares is expected today after Wall Street lost US$50 billion or 3.1% on Friday falling to 7694.68.

Some estimates place the losses as high as Au$10 billion.

Colonial State Bank's chief economist, Hans Kunnen, said yesterday, "There are enough differences to 1987 and now not to warrant the same sort of melt down. It's a correction. Those guys have made 25% profit in four months and they are taking profits but there are other people coming up who are saying 'I can now pick up Microsoft cheaply'".

Estimates suggest that the Australian Stock Market will fall 60 to 70 points later today.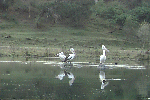 Yesterday my wife and I went for a canoe up the Brisbane river and came across these two young pelicans with their mother just upstream from the Colleges Crossing Park.

As you can see it was an absolutely beautiful day in paradise....
and today is yet another beautiful day in paradise.

Have a good one.
---

Return to Australian National News of the Day
#