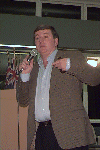 "Poody tat" Lord Mayor Jim Soorley has cancelled a One Nation rally that was to be held at the Inala Civic Centre after being told that it was Brisbane City Council property.

The council's venue co-ordinator, Damien Maloney, cancelled the booking at 5.10pm last night after receiving instructions from the mayor's office.

This follows the move by the Ipswich City Council with the original reason given by Soorley was that the function venue adjoined a council library - a totally ridiculous comment.

"It is totally inappropriate for students who use the library to have their study disturbed," Soorley said, "they use the library every night - which shares an entrance to the hall - and they don't deserve to be disrupted."

What Soorley overlooks is that the library closes at 6pm and that the One Nation meeting was not due to start until 7.30pm.

So Soorley changed his tune, don't poody tats do that all the time, then saying that the Inala Civic Centre was a community facility and that he did not want the meeting "causing any trouble".

One Nation's branch convenor at Inala, Darryl Wheelie, said that the meeting would go ahead even if it was held in a paddock.

"Firstly, I was told it was council policy not to let us use the hall - but I'm sure no such policy exists outside the mind of the Lord Mayor," Wheelie said.

"Then I was told it was because of likely damage to the building. It is made of solid brick and the windows are high up," he said.

The leader of the Liberal opposition in the council, Cr O'Connell, said the Lord Mayor's actions were politically motivated and that he had "no understanding of democracy".

"Little dictator Soorley has no right to ban anyone from council buildings on political grounds," she said.

"Whether it is Pauline Hanson's party or the Socialist Left, they all have a right to meet. What makes our country great is the freedom to be involved in the political process without hindrance from the government - this includes Jim Soorley."
---

Making the news.

---
Political:
John Howard revealed his "vision for growth" in a speech yesterday. His address titled Realising Our Potential was aimed at countering the comments of business and political opponents to his new broadbased Goods and Services Tax strategy.
"The Government... has now moved to the second phase of its economic strategy. That phase is to realise our full potential as a nation into the 21st century through stronger economic growth and the job creation which such growth entails.
"Our aim is for real prosperity that touches every Australian individual: families, workers and businesses alike. At the beginning of the new millenium every one of us should be able to say that we have laid the foundations for a new era of high and sustainable growth which will reclaim our status in the world's economic league tables."
Meanwhile the Labor Party's Left-wing think tank, the Evatt Foundation, yesterday struck problems with one of its members on the tax review commission ex-Reserve Bank chief Bernie Fraser suggesting that a Goods and Services Tax might be the best solution... flying right in the face of Labor leader Kim Beazley's comments slamming the GST.
John Howard is planning to block Australia's first heroin trial which was scheduled to start soon in the ACT.
He attacked the Labor ACT government saying that he was "unconvinced that there are enormous benefits to be derived from the trial".
"I remain myself profoundly sceptical of the view that the way in which you cure the problem of heroin and marijuana is to legalise them. I don't mind saying that in the bluntest possible terms."

Business:
Brierley Investments Limited (BIL) have been brought to account by the Australian Securities Commission (ASC) after it was revealed that a secret transaction involving 3% of Fairfax stock was purchased by them through Merrill Lynch.

The ASC also slammed Merrill Lynch, a leading stock broker, for handling the transaction.

BIL was not supposed to buy any more stock in Fairfax until June this year after it bought 19.9% of the company from Conrad Black in December last year - 'creep provisions' of the Corporate Law allowing BIL to buy a further 3% of Fairfax every 6 months.

If BIL is forced to place the 3% back into the stock market it will weaken its position in trying to fend off Kerry Packer should the government decide to change media ownership laws in favour of Australia's most powerful man - allowing him to increase his current 15% holding in Fairfax.

The ASC said in its report on the matter, "On 17, 24 and 27 June 1997, Merrill Lynch Futures Ltd sold approximately 22.5 million Fairfax shares representing 3% of Fairfax shares on the Australian Stock Exchange.

"Between June 17 and 4 July a subsidiary or subsidiaries of BIL purchased approximately the same number of shares through the ASX.

"An investigation has revealed that Merrill Lynch Futures Ltd and a subsidiary of BIL entered swap agreements in respect of approximately 4.9% of Fairfax shares in March 1997."

Another gorgeous day outside - but cold this morning.

Have a good one.
---

Return to Australian National News of the Day

#
---
See GLOBE International for other world news.

---
anotd