The University of Southern Queensland at Toowoomba has banned meetings of members of Pauline Hanson's One Nation party on the campus. Vice Chancellor Professor Peter Swannell said in a media release, "There is no place for her philosophy in a modern, caring university."

"It is vitally important that we cultivate tolerance and a more caring attitude towards all members of our society," he said.

The University's registrar, Steve Yanzer, said that although universities were supposed to provide a forum for public debate the decision showed that what Ms Hanson was saying was wrong.

The University's news pages do not carry the media release at this stage.

Australia recently forged military links with China and now face the spectre of China forcing the US military to leave the region.

This according to the Director of the Strategic and Defence Studies Centre, Professor Paul Dibb.

Dibb said that China is becoming more powerful and confident in the region. "The strong message I get is that... for the mid to longer term China is working on a policy which works to have the United States removed so that there is less competition from what is, in fact, the only real competition to China", he said.

Dibb was speaking at a seminar in Canberra on the US-Australia alliance. He said that China wanted to see the US forces removed from South Korea and Japan.

"We need to worry about Asia, and more importantly South-East Asia, being dominated by any one major Asian power," Dibb said.

He stressed that without the ANZUS alliance Asia would be a dangerous place for Australia to be located.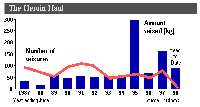 A large amount of heroin seized in June this year - almost half the entire haul for 1996/97 has failed to curb the supply on Australian streets.
Already 81.4 kilograms of heroin has been seized in 1997/98 (ie since July this year) compared to 169 kilograms during the whole of the previous year.
The disturbing point missed in the report is that the number of actual seizures has dropped while the amount seized in terms of size has risen dramatically.
Already two separate seizures during July this year have uncovered record amounts of heroin flowing into Australia - one of 32 kilograms worth Au$32 million on the street and another of 16 kilograms.
Proof that the drug is now in plentiful supply is its cheap street price and last year's Penington report into drugs in Victoria revealed that the estimated number of regular heroin users in Victoria rose from 34,000 in 1986 to 59,000 in 1990.
The number of Australian heroin users is estimated to have risen from 109,000 to 172,000 in the same period.
This is about 1% of the Australian population - or half the number of voters supporting the Green Party (see below) according to the latest News Poll....very disturbing indeed.
---

Making the news.

---
Interesting immigration links: