Overview: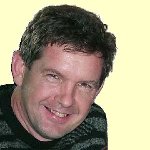 What happens when an ordinary citizen, Scott Balson (right), challenged the integrity of a corrupt media and corrupt two party system?
The corrupt establishment pits all its forces against the individiual in an attempt to silence him.
Balson was charged with naming Labor MP "Bill D'Arcy as a man facing child-sex charges on the Internet" in July 1999. At the time D'Arcy faced fifty child-sex charges including rape and was sitting in Parliament as the Deputy Speaker supporting Peter Beattie's minority Labor State government. (D'Arcy presided as acting-Speaker during discussion on paedophilia in Parliament in 1999!) Balson is the only person to have ever been charged under an obscure 20 year old Act, unique to Queensland, that prevents the naming of a person facing child sex charges before they are committed to trial. He was acquitted by an Ipswich Magistrate 9 months after being charged and arrested.
Balson was arrested on the direct instructions of Labor MP Matt Foley (Attorney-General) just three days after The Courier-Mail laid an official complaint against Balson with the DPP and obviously with this paper's blessing.
This book is a true story detailing the disturbing background to the motivation for charging Balson and how he fought back and used the system against itself - destroying the credibility of The Courier-Mail and the fallacy of political democracy in the Queensland judiciary system.
Balson's battles with the system continues as he seeks a return of power to the people.