Inside One Nation -
by Scott Balson
Nearly 400 pages of carefully researched material exposing what went wrong inside Pauline Hanson's One Nation - as well as 80 exclusive photographs covering the rise and fall of One Nation.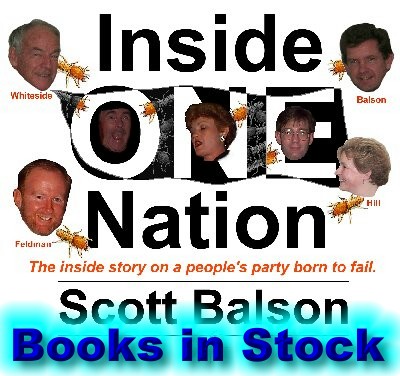 This is the book referred to in the "Woman's Day" article published 26 March 2007 -
(order online from the publishers through the button left or options below):

extract page 226
"Scott you realise that Pauline is having an affair with David Oldfield?" It was Barbara Hazelton on the phone. The normally level-headed, super efficient ex-John Stone staff member was in panic mode. Like many of us she was concerned about the disconcerting emotional hold that Oldfield clearly had over Ms Hanson. (June 1999)

So how long did Oldfield's affair with Hanson last - it wasn't two weeks! This book reveals it all

Order
INSIDE ONE NATION
securely on line (US$35)
(includes airmail postage anywhere in the world)


or
Order the book "Inside One Nation" by fax or mail.
Payment can be by Credit Card, Cheque, Cash or Postal Order:
The irony of sending anything to Pauline Hanson to read is never lost on John Pasquarelli, who maintains that Pauline never read anything that he ever gave her. Bruce Whiteside (confirmed by Pasquarelli)
The tragedy for every member of One Nation is that they were never members of the political party. They were nothing more than fund raisers for Pauline Hanson's One Nation Limited. Champions Magazine Pty Ltd, Ettridge's company, was the major financial beneficiary of their labours. Scott Balson, "Inside One Nation"
The media not only distorted the truth and told lies they never bothered to look at just what happened to One Nation or how it was destroyed. The standard of journalism in Australia is worse than pathetic it's a disgrace. Scott Balson, "Inside One Nation"
Ettridge, "I have left the party in good shape" and "We are all like minded. We want to save Australia" and "Everyone has an axe to grind"
David Oldfield, "I have no relationship with the Queensland party in any shape or form" and "Tony Abbott is right of Genghis Khan" and that "Abbott only used the Liberal Party as a vehicle for his own political ambitions - not really believing in their policies."
Pauline Hanson 7th January 2000 "By doing this (establishing the City Country Alliance) they destroyed what we have been working so hard for - to bring accountability to politics"
John Elliott to Bruce Whiteside, December 1996, "You understand that this means the decimation of the Australian Democrats"
Tom King, February 1999, "Pauline has got to be convinced that as the one who ignited the fuse, she must live up to the standards she illustrated that made her so appealing to us and a large slice of Australia. Pauline may think she created the movement, not so, it was there all the time"
Alan Doak after resigning in June 2000, ".. (Ms Hanson) is a lunatic. She is trying to destroy One Nation and so far is doing a good job" and to Balson, "Ms Hanson knew what was going on in Manly all along"
This book has provided me with more pieces of the jig saw puzzle that was Pauline Hanson's One Nation. The emerging picture confirms that Pauline Hanson's One Nation was never a political party but merely a "fan club"....
Heather Hill, ex-Queensland State Political Leader of One Nation and Senator-elect.
One Nation had the potential to save Australia, if only it had been structured correctly, and for the right reasons. The shattered hopes of hundreds of thousands of Australians is the only product of the movement which had promised so much. What a tragic waste of all that enthusiasm and dedication.
Many people showed a lot of loyalty to Pauline - loyalty which was not returned. Everybody who dared to question was branded as a threat and ostracised. Not only did Scott Balson dare to question, but in the book, has provided some of the answers.
Ian Petersen, political adviser, Queensland City Country Alliance MPs
---
In November 1999 Scott Balson resigned from his key position as One Nation's Web Master. This followed meetings with the founder of the Pauline Hanson Support Movement, Bruce Whiteside.
Whiteside was able to provide Balson with documents which supported his argument that One Nation had been founded on his hard work. Incredibly his movement was hijacked and he was then evicted from it and classified as a "white ant" on David Ettridge's infamous white ant list.
Balson, the author of several best-selling books, has spent eight months researching One Nation's darkest secrets. He has used his contacts to speak to a large number of key people and gained access to previously unpublished information. He has also gained access to documents that reveal a trail of deception preceding the launch of the party. He has unravelled the Liberal Party links with One Nation and the vicious attacks of the Labor Party. While the Liberal Party wanted to harness One Nation's preferences Labor Party associates surreptitiously used violence to try to shut the party down. All the time the media played the game - demonstrating that they are the real political force in Australia.
This is not a pleasant book, neither is it supposed to be. It exposes just how Manly spent millions of the party's hard won dollars. It exposes how the hardest and most dedicated workers were discarded when their used by date had come. It exposes Oldfield's links with Abbott. It exposes just what happened to the party in Victoria and Queensland. It exposes the background to the party's undemocratic constitution and the flawed party structure in Queensland. It exposes much more with 400 pages of fact and 80 historical photographs.
This book is a must read for anyone who has voted for or been involved in One Nation.
---
Order the book "Inside One Nation":
Related press articles and interviews:
Extract, Pauline Hanson in Ignoreland:
A couple of rungs down in the party hierarchy once-loyal footsoldiers are now some of her most bitter critics.
Scott Balson was the One Nation webmaster. The former Hanson acolyte would have once laid down his life for his leader. Now, he's about to publish a damning book called 'Inside One Nation'.
Scott Balson: I am very concerned that people think that she's a martyr, because she's not. The martyrs are the people who say nothing, they're the victims of One Nation, the people who have basically been pushed out of the party, vilified, called all sorts of names by the leadership in One Nation, they're the martyrs.
Gerald Tooth: What would you say to people that they need to know about Pauline Hanson in considering her as a candidate for the Senate?
Scott Balson: Well I find it very ironic that she talks about accountability, because there was no accountability in One Nation between 1997 and 1999 when I left. You know, if you're going to be talking about accountability in government, accountability starts at home. How can you have an accountable government or be pushing for an accountable government if your own party is not accountable?
Gerald Tooth: Is Pauline Hanson worthy of people's trust?
Scott Balson: I guess that's for people to decide; I certainly won't be voting for her again. You know, the great tragedy here is that if One Nation had been run correctly from the start, if it had been accountable from the start, it could have been the third political force in this country. But it wasn't run correctly, and it was never accountable to the people, and it was because of that that the party failed, it wasn't because of the media, it wasn't because of some big business that came through and said, 'Right, we're going to shut you down', it was because of the way the party was structured, it was because of the way they party was run from the top, (and I'm talking about Pauline Hanson here) it was born to fail.
Gerald Tooth: And it failed in spectacular fashion. One of the eleven Queensland MPs resigned for personal reasons and subsequently committed suicide. The other ten all left claiming Hanson, Oldfield and Ettridge had set up a corporate structure that was unaccountable and an insult to the membership.
---
On the 31st August the author had a call from Yvonne Kennedy of the Queensland State Library offering to sponsor the launch of his latest book "INSIDE ONE NATION". He accepted and after being shown around the library was offered the use of the exhibition room on the second floor for the book launch on the 4th October. Ms Kennedy asked if invites could be extended to all members of the library board and the State Librarian. The author was delighted to do so.
The next day, on Ms Kennedy's suggestion, he contacted Andrea Stapleton of the Library bookshop. Ms Stapleton agreed to stock his books "ONE VOICE, MANY ISSUES" and "ENEMY OF THE STATE" and the author set up a meeting to see her at the Library bookshop on the following Monday 4th September. That weekend he prepared dozens of invites and faxed many of them to guests.
On Monday he went to the State Library Bookshop and delivered ten copies of each of the published books and left invites to the State Board members to attend the launch as discussed the previous week.
The next day the author had a phone call from Ms Kennedy requesting a draft copy of "INSIDE ONE NATION" saying that she needed this before she could proceed with giving the launch the green light. (Somewhat after the horse had bolted). Under the changed conditions he agreed to send her a copy of the Introduction of the new book by email She mentioned at this time that the book shop were concerned about the unflatering reference to the Attorney-General Matt Foley in the book "ENEMY OF THE STATE".
The author emailed Ms Kennedy the Introduction of "INSIDE ONE NATION" as agreed late on Monday.
The next day, 6th September, Ms Kennedy advised that the State Library would not be hosting the launch "because the author had once been the One Nation webmaster".
The author contacted the library's bookshop later that day to see if his books had been stocked. He was told by Ms Stapleton that they would not be stocked because "they were not high literary content and a bit controversial...". She expressed the view that if "INSIDE ONE NATION" had been launched at the State Library she would have stocked them. No one had had the decency to contact the author to let him know that this was the case.
So the books have been banned from the State Library bookshop because the book claims, with clear documented proof, that the Attorney-General knowingly presides over a politicised judiciary.
But don't dare call it censorship in Australia! Shades on "Murder by Media" and Dymocks all over again!
Political correctness rules!
---
The net pics Scribbles Dar-es-SalaamGlobal Web Builders Strachan and Co FijiBure.Com EmailStaff thenetpics thestoryofus Author Woman to Woman