Link button
Copyright approval to use the button is given on the following basis only:
Neither the image nor the source code is to be altered in any way. Any changes are considered a breach of copyright.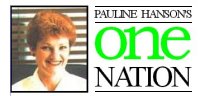 Source code:
Cut and paste code below into your web page then replace all '*' with '<'
*center>*a href="http://www.gwb.com.au/onenation">*img src="phbutton.jpg" alt="Pauline Hanson's One Nation" border="0">*/a>*/center>
---
Text Link options:
[Press Releases] [Speeches] [On-line History] [Books and Biography] [Parliamentary Links]
[Political Goals] [One Nation People] [Join the Party] [On-line Issues] [Banner Link]
---
© Pauline Hanson's One Nation, 1997.