New on-line moderated forum
for Pauline Hanson's One Nation


If you are already registered click on the button on the right, below and enter your current name and password to access. (Over 500 participants now using this forum making it the most popular political party forum in Australia). Follow steps below on how you can participate

What's New: Family Law and Child Support Discussion Forum
Several Queensland MPs and Federal candidates address your issues with you one to one.
Young Nation forum - youth arm of One Nation headed by Vanessa Stewart Young Nation President
CHAT - Real time chat with One Nation members and supporters.
Images and links
Register your unique profile at this link (see where in image below).
Save the automated email response with your access details. (NOTE: Until you have been added (see 3 below) you will not see the forum. ie Register, get your email response and then allow 24 hours before you go back and gain access to the board which only appears after you have been added!)
Within 24 hours you will be added by the moderator and be able to access the forum (from button above) as shown in the image below.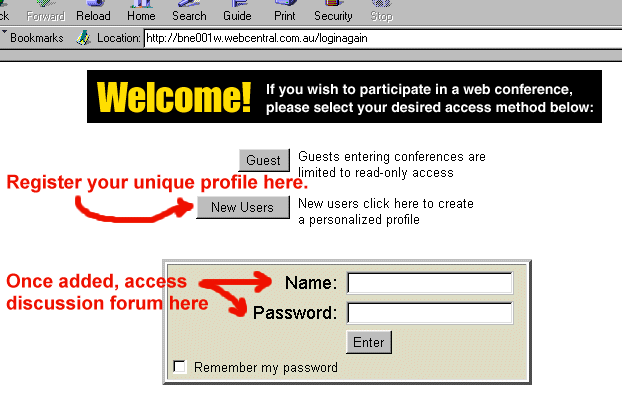 The purpose of the discussion group is to discuss One Nation policy, issues and brain storm. You will be able to interact with One Nation MPs and join real time chat sessions.
Please note THIS IS a moderated discussion group and any offensive posts will result in the poster being taken off the forum. Final decision on participation at any stage will be that of GWB. No correspondence will be entered into with participants who have been blocked from gaining access.