One Nation's 1997 Christmas Party
Sunday 14th December 1997


Once again a beautiful summer day in sunny Queensland as Viv and I set off for the Gold Coast to join a group of One Nation members at a private Christmas Party.
The party was to be held at the home of Pauline Hanson's close friend and confidante, Barbara Hazelton, but included a veritable who's who of Pauline Hanson's One Nation - including the great lady herself - who was tied up with the media on Barbara's waterside jetty.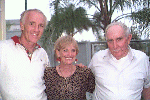 I met Barbara's husband Bill and father-in-law Geoff Hazelton. Bill is a flight engineer with a major international travel company. (Seen here on right).
There were a number of well-known personalities at the party. They included nominees for Senate positions as well as state and federal seats.
Quite a remarkable development when you consider that One Nation had only been launched just eight months before.
There were a number of wonderful moments at the

party - but none more than when Pauline gave me a cuddle....
On the following pages I will present a brief background and images taken at the Christmas party. They include: