Labor's Left Link promotion and support for student protests by communist Resistance group
It is blatantly clear that Left Link, the extremist violent communication centre for the loony left in the Labor party and the trade union movement, is against democracy in this country.
The organisers behind this anarchist, communist body hide behind the mantle of political correctness complaining when people strike back like the lowest of the low... that they are - but then rallying up children who do not understand what they are getting involved in or who is behind their actions - when they agree to protest against Pauline Hanson's One Nation - a legal, democratically elected Australian party.
These people are no more than scum. Yes scum with a capital "S".
Below are three posts by Labor's ferals:
The first from the Democratic Socialist Party - communists behind the student "protests".
Subject: LL:PR: Socialist "manipulators"?
From: Democratic Socialist Party <dsp@peg.apc.org>
Date: Fri, 24 Jul 1998 12:12 AEST
Message-ID: <199807240330.NAA02438@vicnet.net.au>
Mailing List: LEFTLINK@vicnet.net.au
Word Matches: DEMOCRATIC SOCIALIST
Pauline Hanson says young ant-racist protesters don't know what
they are doing.

One Nation's David Oldfield says they are being "used for the
cause of international socialism".

Daily Telegraph editor Piers Akerman says: "The totally repugnant
and manipulative socialist youth organisation Resistance will
again attempt to excite guileless students with another trumped
up demonstration against racism".

P.P. McGuinness branded Resistance as "left fascism" in his
Sydney Morning Herald column and called for ASIO to "keep close
tabs on them".


FOR AN OPPORTUNITY TO interrogate the  alleged  socialist "manipulators" of
the recent youth protests against racism

                   *** MEDIA CONFERENCE ***

                       Monday July 27 1pm
                        Resistance Centre
                        23 Abercrombie St
                         Chippendale NSW


This press conference in the Sydney Resistance Centre, one of
more than a dozen activist organising centres around the country,
will give the media a chance to speak to the alleged
"manipulators" -- key leaders of Resistance and the Democratic
Socialists.

Available for interviews will be:

Sean Healy, national coordinator of  Resistance
Marina Carman, student organiser for Sydney Resistance
John Percy, national secretary of the Democratic Socialists,
federal candidate for Sydney and founder of Resistance in 1967
Lisa Macdonald, editor of Green Left Weekly
Peter Boyle, the Democratic Socialists national election campaign
director
Max Lane, foreign affairs spokeperson for the Democratic
Socialists

                  For further details contact:
             Peter Boyle 02-9690 1230 or 0412139968



Democratic Socialist Party
PO Box 515, Broadway NSW 2007, AUSTRALIA
Ph: +61 2 9690 1230 Fax: +61 2 9690 1381
Email: dsp@peg.apc.org
WWW: http://www.peg.apc.org/~dsp



   
   o=o=o=o=Leftlink - Victoria's Broad Left Mailing List=o=o=o=o
   Messages appearing on Leftlink are not necessarily endorsed
      by the list moderator or the New International Bookshop
  See http://www.alexia.net.au/~www/mhutton for further information.
   To join or leave the list send email to majordomo@vicnet.net.au
  with "subscribe leftlink or "unsubscribe leftlink" as the message
   o=o=o=Sponsored by Melbourne's New International Bookshop=o=o=o


---
In the second post below you will note the direct involvement of the Labor Party with the communist organised rally (highlighted in red).
You will also note the quotes (taken out of context) by the One Nation web master.
Subject: LL:AA: Help the RALLY AGAINST RACISM
From: Michael Thomson <M.Thomson@records.usyd.edu.AU>
Date: Mon, 27 Jul 1998 08:54:16 +1000
Message-ID: <199807270232.MAA16830@vicnet.net.au>
Mailing List: LEFTLINK@vicnet.net.au
Word Matches: DEMOCRATIC SOCIALIST


Distribute this message widely.

Help leaflet for the rally -- meet this Wednesday and Thursday 4.30 pm -- 6
pm near the Devonshire St Entrance, Central.

*******************************

RALLY AGAINST RACISM

*  Stop racist One Nation -- Put One Nation last
*  Stop Howard's 10 point plan -- Defend land rights and native title
*  Stop attacks on migrants -- Migrants are welcome here
*  Racism is no solution -- Stop the cuts

1.30 pm Saturday 1 August

Rally at Hyde Park
March to First Fleet Park

Speakers include:
Michael Costa (Labor Council)
Jenny Munro (Metropolitan Aboriginal Lands Council)
Katie Young (Chinese Community)
Quong Vo (Vietnamese Community)
Vanessa Badham (NUS)
Meredith Burgmann (MLA)

The rally has been endorsed by:
Labor Council of NSW, Ethnic Communities Council, MUA Central NSW Branch,
Korean Society, Indigenous Social Justice Association, Vietnamese Community
in Australia, Chinese Migrant Welfare Association, Fire Brigades Employees
Union, CPSU members ABS, NTEU NSW Branch, NUS, Council of Australian Post
Graduates Assoc, Socialist Worker, Left Alliance, Democratic Socialist
Party, Pax Christi, and many other groups.

For more information, leaflets and posters call 9261 4862 or 92674462 or
e-mail Michael Thomson <M.Thomson@records.usyd.edu.au>.




         "I hold up the flag of 'gay-bashing', if that
                  is what it is, with pride."
         Scott Balson, One Nation web site maintainer
   
   o=o=o=o=Leftlink - Victoria's Broad Left Mailing List=o=o=o=o
   Messages appearing on Leftlink are not necessarily endorsed
      by the list moderator or the New International Bookshop
  See http://www.alexia.net.au/~www/mhutton for further information.
   To join or leave the list send email to majordomo@vicnet.net.au
  with "subscribe leftlink or "unsubscribe leftlink" as the message
   o=o=o=Sponsored by Melbourne's New International Bookshop=o=o=o


---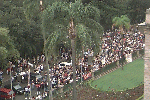 The last in this series is a message from Resistance dated 29th July 1998. Note reference to "14,000 students" participating. What pulpable trash. To see the student protesters at their prime (maybe 400) see coverage of the protest or image on right. (NOTE: Half the number outside parliament below was a separate Aboriginal group).

The post below is supposed to record what happened what it records is the disrepute under which Left Link operates. Left Link is funded by the trade union (Labor) SEARCH (politically correct) organisation. This is confirmed on the Left Link home page.

Subject: LL:PR: High School Walkout Against Racism

From: Resistance Socialist Youth Organisation <resistance@peg.apc.org>

Date: Wed, 29 Jul 1998 13:19 AEST

Message-ID: <199807290543.PAA29441@vicnet.net.au>

Mailing List: LEFTLINK@vicnet.net.au

The national high school walkout against racism organised by Resistance for
July 24 (July 28 in Queensland) proved an immense success.

By our estimates, more than 14,000 secondary students participated in a
clear and direct repudiation of the politics of racism and Pauline Hanson's
One Nation. This makes it the single largest political action taken by
secondary students in this country's history.

And it has provoked enormous debate: about whether young people have the
right to engage in such protests, about whether they should be walking out
of school, about whether this marks the definitive end of the ``apathetic''
generation.

We're not going to leave it there. Already, Resistance is discussing plans
for further action on August 28, a month from now.

We want to make these actions even larger, involving even more regional
centres and small towns and involving sections of the population (most
specifically amongst youth) other than secondary students.

But to do this, we do need help: to get the message out, to raise the
necessary funds, to publicise and organise it.

And particularly, we need assistance in getting in touch with interested
student activists in regional and country areas, to make sure that we can
make August 28 a truly national event.

And so we're calling on Leftlink subscribers to get in contact with us if
you can be of assistance to August 28. Phone us on (02) 9690 1230 or email
us at resistance@peg.apc.org



Resistance Socialist Youth Organisation
National Office
PO Box 515, Broadway NSW 2007, AUSTRALIA
Phone: 02 9690 1230
Fax  : 02 9690 1381



         "I hold up the flag of 'gay-bashing', if that
                  is what it is, with pride."
         Scott Balson, One Nation web site maintainer
   
   o=o=o=o=Leftlink - Victoria's Broad Left Mailing List=o=o=o=o
   Messages appearing on Leftlink are not necessarily endorsed
      by the list moderator or the New International Bookshop
  See http://www.alexia.net.au/~www/mhutton for further information.
   To join or leave the list send email to majordomo@vicnet.net.au
  with "subscribe leftlink or "unsubscribe leftlink" as the message
   o=o=o=Sponsored by Melbourne's New International Bookshop=o=o=o




OTHER RELATED LINKS: