Launch of One Nation on the Gold Coast -
Tuesday, July 1st 1997
by Scott Balson, Global Web Builders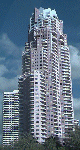 The trip from Ipswich, heart of Pauline Hanson's political platform of Oxley, was quite uneventful. It was a beautiful sunny day - a typical Queensland day.
When I arrived in Surfers Paradise on my way to the Gold Coast Arts Centre I was reminded of the lengths at which some local shop owners will go to attract the all powerful Yen - Japanese signs replacing those of English signs on the shops that lined the main street of Surfers Paradise.
I have received firsthand reports of Japanese tourists being offended at the little-Tokyo that greets them when they walk down the streets.
It was about 2.30 pm when I arrived at the Arts Centre, an impressive building with an auditorium that seats about 1,100 people this is where Pauline Hanson would Launch the Gold Coast branch of One Nation later that night.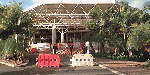 The only people around for the 6.30pm start were police, workers erecting a barricade, a bevy of reporters and their crews outside and, inside the Arts Centre, the organiser and president of the branch, Paul Trethawa.
I introduced myself to Paul who gave me a ticket two rows from the front...
Having time to spare I went for a walk across the bridges into Surfers again to savour the atmosphere. One thing was for sure this felt like the same Gold Coast that I had known for many years. Japanese tourists still flocked around shops and tourist buses full of Asians still came down the main streets on a regular basis.
The interview with a Japanese television crew:
After a late lunch I returned to the Arts Centre and had the opportunity to speak to the crew of the Japanese television station TV Asahi.
The Bureau Chief of their Sydney Bureau, Hajime Kitamura, was happy to give me a short interview on the Japanese perspective of Pauline Hanson. We were soon joined by a reporter from the Gold Coast Bulletin who asked a few questions but bolted when I asked Hajime "if that makes Japan racist as well" (see link above).
A Korean television crew was there as well but they were less forthcoming.
Soon after the interview at about 5.30pm a small group from the lunatic Left (Socialist Party), who have been following Pauline Hanson around the country, set up their tables draped in bright red cloth. This group were to account for about 80% of the protesters and represented everything from gay and lesbian rights to native title.
The feeling I had as the initial groups, sometimes in ones and twos arrived, was that they had come not because of Hanson but because here was an opportunity for them to get guaranteed national coverage on television - depending on how outrageous their outfits were. They leapt at the opportunity to be photographed and this lowly Internet reporter just had to say the word and they would be jostling for position to be caught on film.
Below are some of the weird and wonderful contenders, but full story and more pics in the link above:
At about 6pm the main body of the "lunatic Left" known also as the ARC (so-called Anti-Racist Campaign) or Left Link protester buses arrived. I didn't know who Left Link were until I got a copy of the email that they sent all over Australia.
The many links from the Left Link web page include:
Lesbian and Gay mailing lists.
Digital Queers Australia.
Australian queer resources directory.
Communist Party of Australia.
Sinn Fein
MUMIA ABU-JAMAL (Former Black Panther on Death Row)
Refuse to use Kleenex (Aus)
Russian feminism resources.
Korean Confederation of Trade Unions (KCTU)
Check it out for yourself from the link above!
The guests prepare for Hanson's arrival:
At 6.30 pm about 900 guests who had gathered in the large foyer of the Arts Centre and who had "run the gauntlet" of the protesters entered the auditorium.
The stage was decked out in three large Australian flags with One Nation posters decorating the walls.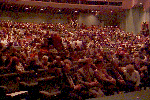 The photograph on the right was taken while hundreds of people were still to enter. The whole of the ground floor and half the balcony seating was full when proceedings started.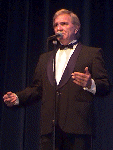 At 6.30pm a special guest star, John Roberts, sang some songs including, Born Free, Memories and I believe that children are our future.
The police were everywhere. I realised this from my vantage point two rows from the front. Federal police were on the stage, riot police were at the doors and outside and the fellow seated right behind me revealed himself and his colleague as plain clothes policemen when someone tried to question them about taking their end-row seats. I remembered the Ipswich Launch of One Nation just two months before - when no Federal police and just a handful of police from Ipswich had controlled the protesters.
The dark side of the protesters "exercising their freedom of speech outside" suddenly came into clear focus... what was going on Australia?
Pauline Hanson, because of death threats, has to live with this sort of protection, this sort of intrusion, day after day. What a gutsy woman.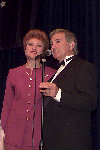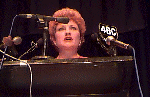 She appeared after Stanley Mason dedicated a short poem to Pauline Hanson, a lovely tribute... Pauline joining John Roberts on stage to sing "Waltzing Matilda" after being given a standing ovation by the guests when she appeared.
Pauline's speech raised the most vocal support came when she raised the issue of how she has been misreported by the media. The journalists seated alongside me on the floor shifted uneasily... they knew what she was talking about.
She covered a wide range of issues and, even the most ardent critic, would have found it difficult to pin anything racist on what she said.
Probably the main reason the event didn't get a guernsey in today's News Limited owned Courier Mail...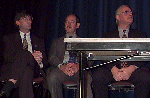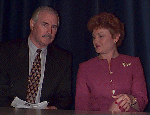 From left to right:
David Oldfield - Pauline Hanson's chief adviser.
Lindon Litchfield - National and Gold Coast branch treasurer of Pauline Hanson One Nation Supporter Group.
David Ettridge - National Director of Pauline Hanson's One Nation party.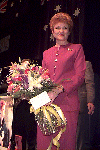 After Pauline's 45 minute speech had been delivered to rousing support and cheers she joined One Nation's National Director David Ettridge while the media took photographs.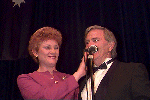 Pauline joined John Roberts for a sing-song and a touching moment after they were being applauded - Roberts asking Pauline for a kiss on the cheek.... Pauline realising that she had left some lipstick behind and trying to remove it with her hand... (left)
I had the opportunity to talk to David Ettridge face-to-face for the first time and share, for a few moments, views on how the evening had gone.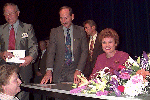 What struck me above all was how calm Pauline Hanson looked on the exterior. What a transformation, what a challenge. Who else could have taken on the elites and the entrenched tax-payer assisted minority groups and bureaucrats who had everything to lose from their hard fought privileged positions that they hold in this country.
She must have the world on her shoulders, not at her feet; she must bear the scars from the betrayal by the media, not the glory; she must wonder where it will all end - what she has started... a lady who once ran a fish and chip shop in the Silkstone suburb of Ipswich. A lady with a mission - Australia's Evita.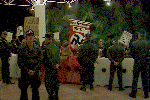 It was time to leave. Outside the protesters were still at it chanting, sneering and shouting abuse from behind a tight police cordon.
Yes, I got verbally abused as I left. I was called a bigot and a racist. But I wondered who the bigots were here. We understood their right to voice their position and we had no option but to hear and see it however offensive, yet they had never sat down and listened to just what Pauline Hanson was saying. No, the mainstream media and financial motivation was the voice of the great majority and their expression of hatred with the "racist" tag being the excuse used to vent it... this was not the Australia that once was.
Perhaps Pauline can succeed, perhaps Pauline can make the difference. I hope so because if this is what happens now when someone stands up for their rights in Australia now what will it be like in the future?
---

Return to launches of Pauline Hanson's One Nation
---
Visitor #:
© Global Web Builders, 1997.