Interview with TV Asahi -
Tuesday, July 1st 1997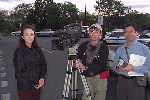 Left to right:
Katherine Perrott manager of new TV Asahi office in Sydney.
M. Senou cameraman.
Hajime Kitamura Sydney Bureau Chief.
Scott Balson (SB): Why have you come to cover the Launch of One Nation on the Gold Coast?
HK (Hajime Kitamura) replied that the Japanese were interested to know how the support for Pauline Hanson's party was growing.
SB: What do the Japanese know about Pauline Hanson?
HK: The Japanese in Japan know nothing about One Nation or Pauline Hanson.
SB: Where and when will your report be shown on Japanese television?
HK: The report will be shown as part of the news this weekend.
SB: Have you ever been to a One Nation meeting before?
HK: No, but we are interested in a kind of racism. The Japanese government is warning about the racism here in terms of tourism and trading.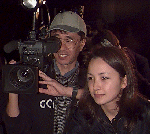 SB: What about Japanese parents sending children here?
HK: Despite what Ms Hanson might say parents will still want to send their children to Australia for an education.
SB: Is there racism in Japan?
HK: We don't call it racism - we call it discrimination. In Japan there are minority groups who are discriminated against. There is discrimination against people on the island of Okinawa by mainland Japanese for example.
SB: Isn't it somewhat ironic you came to cover racism in Australia yet you have it in Japan?
HK: Yes. Okinawa is a good example of this discrimination.
(At this point the girl from the Gold Coast Bulletin left the conversation).
SB: So why are you here?
HK: Japanese people who have invested here (on the Gold Coast) are disappointed and have said that the Japanese government should take a stand against racism.
SB: Thank you Hajime.
---