Today's Headlines

an Aussie's viewpoint

Saturday 15th June1996
International: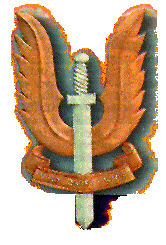 The Special Air Service logo - WHO DARES WINS.

Today we have a special tribute for the Special Air Service Regiment (SASR) men who died in the horrific Blackhawk accident on Wednesday night. The elite of Australia's special services proved their mettal when the time came, unexpectedly in a dark isolated spot that can now only be called 'hell on earth'.

To quote Captain Burke:
"As soon as we hit the deck, the safety staff on the ground were there, they had medics there, they were organising, they were pulling people out, there were people going into the flames of aircraft to pull them out.

"There were rounds going off, there was ammunition flying in the air, there were explosives in the back of the aircraft going off, there were aircraft exploding, and these men, both SASR and aircrew, were going into the flames and cutting people out and bringing them out."

The men who died, mainly from Western Australia, include:

5th Aviation Regiment Captain John Berrigan, 27 of Annandale, Queensland;
Captain Timothy James Stevens, 20 of Subiaco, Western Australia (WA);
Captain Kelvinh James Hales, 26 of Belgian Gardens, Queensland;
Sergeant Hugh William Ellis, 35 of Padbury, WA;
Corporal Mihran Avedissian; 29 of Chadstone, Victoria;
Corporal Michael Colin Baker, 24 of Goodna, Queensland;
Corporal Darren John Smith,27 of Ettrick van Kyogle, New South Wales (NSW);
Corporal Brett Stephen Tombs, 31 od Duncraig, WA;
Corporal Andrew Constanindis, 31 of Greenwood, WA;
Lance Corporal David Andrew Johnstone, 26 of Mullumbimby, NSW;
Signaller Hendrick Peeters, 25 of Wembley, (WA);
Lance Corporal Darren Robert Oldham, 29 of Greenwood, WA;
Trooper Timothy John MacDonald, 24 of Scarborough, WA;
Trooper Gordon Andrew Callow, 34 of Bealiba, Victoria;
Trooper Glen Donald Hagan, 30 of Moorooka, Queensland;
Trooper Johnathan Galus Sandford Church, 32 of Ellerslie, Auckland, New Zealand;
Trooper Michael John Bird, 28 of East Fremantle, WA;
Trooper David Frost, 29 of Currans Hill, NSW.
Political:
Following the backflip by the Prime Minister John Howard and Peter Costello on the taxation impost on State and Local Government it now appears that the compromise came by way of a Au$1.5 billion reduction by the Commonwealth in funding of state's services over the next three years.

John Howard hit the nail on the head when he said that he found it extraordinary that the state politicians and bureaucrats would protect there "little racket" (ie no sales tax) in favour of a direct reduction in services to the people that they are supposed to represent.

I also find it rather surprising that the traditional print media have not made a bigger thing of this as it goes right against all that is good in a democracy.

Basically the compromise shows the chasm between the airy-fairy life of politicking and intrigue that our bureaucrats and their political masters play so well compared to the day to day fight to exist by the growing numbers in Australia who already live below the poverty line.

Now a Au$600 million plus reduction in funding on services to the states in both of the next two financial years is going to dramatically worsen the plight of the poor while the rich (who would have been worse effected by any direct taxation on the chattels of the State and Local governments) are not effected at all!

What the hell is our society coming to, and who the hell do these bureaucrats and state politicians represent, because let me tell you it certainly isn't the silent majority who put you there and who are the average Aussie battlers!
Business:
Normandy Mining Limited, under the leadership of Robert Champion de Crespigny, is fighting back in their goal to merge with associated companies into a Au$4 billion gold mining house.

Shareholders in Normandy Mining's listed associates, PosGold Ltd and Gold Mines of Australia Ltd will be asked, for the second time, to approve a merger through schemes of arrangement at meetings scheduled for August the 16th.

The major change to the original proposal, which fell on its head, Normand Mining yesterday launched a Au$660 million scrip takeover offer for North Flinders Mines Ltd - rather than attempt to absorb the 49% owned NFM through a scheme of arrangement.

If you don't understand what's going on - join the club!

A full scale war in the home loan market became a reality yesterday when the countries largest bank, National Australia Bank, entered the fray undercutting the market. Within hours all the major banks had followed suit.

National Australia Bank's new home loan variable rates are: 9.75% with the majors in or around that figure.

With the fall in interest rates we expect that housing prices will at last drag themselves off the bottom of a long and dusty trail of no growth since 1990.
Sport:
The Shark, that internationally acclaimed Australian golfer, Greg Norman, collapsed again in his appearance at the 96th US Open. This time it wasn't the fadeout that he suffered in the final round of the masters when he played against Nick Faldo for the much prized green jacket. Norman's problem was a virus which he had contracted last week.

To add to his woes, his putting was pretty ordinary. To quote Norman, "I think its the same thing that I have been going through for the last few weeks. I have not had a lot of confidence in my putting."

He ended the day 3 over par on 73 and six shots behind Payne Stewart and Woody Austin on 67.

Our masthead web site the Definitive Lifestyle Guide to Australian Webs turns one year old today. Thank you, whoever you may be, wherever you might live, for your support in making the affectionately termed Aussie DLG such a great success!

Well it is wet today. Slight drizzle has been falling since late last night. The Brisbane River valley is shrouded in mist but otherwise perfectly delightful. Another day in the global office.

Today we launch Ads On-Line for our client- Queensland Trading Post (QTP) - pay it a visit, it will be worth the surf!
---

Return to Australian National News of the Day
#