Australian Event Webs

---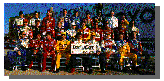 The Indy Carnival is one of Australia's major events. In a world first, this event was covered live on the Internet from the track in 1995.
Event based webs:
In this section we cover dynamic, live information from sports, to conferences, to the media. This is a great section to get to know what is currently HOT in the land of OZ. We also cover the band, music, art scene.

---
This section sponsored by:
---

Hot- current news and Australian events.

Australian print , radio and television media on the Internet.

Major international events.

Other international events.

The complete Australian sports scene.

Other local events.

Archive to past Australian events.
---
---
---