The history of Pauline Hanson's One Nation on CD
The longstanding One Nation archive has been removed from this website is now only available through the CD below

"This CD is a very useful and comprehensive resource for scholars wishing to study the origins of One Nation.... It will be an invaluable resource for postgraduates and honours students in political science and history writing theses on the emergence and character of One Nation".... Prof Ian Ward, School of Politics, University of Queensland, St Lucia Campus
CD published July 2003: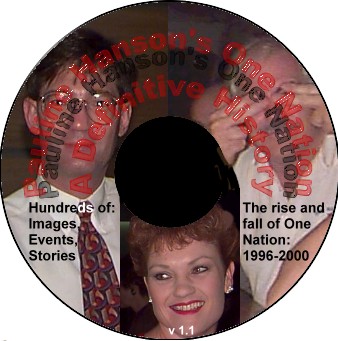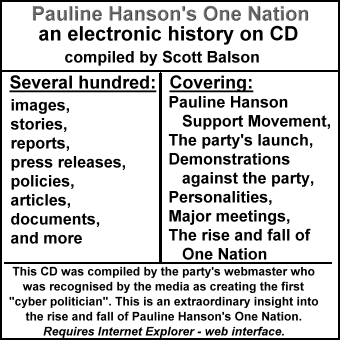 Scott Balson, who compiled this CD was the party's web master from the launch in April 1997 to November 1999 when the party started collapsing from within. Balson has written four books including a comprehensive history of the party - details at this link.
Important note: Institutions buying this CD buy a single user license under which students or researchers may view its contents.
The copyright to the content on this CD remains the property of the Balson Holdings Family Trust and it is illegal to make copies of the CD.

If you want to see how the law is used by politicians in the major parties in Queensland and how it, with it's contacts in the media, destroyed the "people's party" then... hang your hat on this statement by the Queensland government's "watchdog" the CMC (or Citizen's Misreporting Commission) in their report on the incarceration of Pauline Hanson for fraud in 2003... that is, "the 500 members issue" - the CMC are a JOKE as exposed inthe book "Enemy of the State" in which a One Nation member was earlier arrested by order of the Attorney-General, Labor MP Matt Foley, and the CJC (the earlier name of the CMC) presented a flawed report after one year of "investigation".

The only reason his arrest did not cause the interest of the media was that his profile was unlike that of Hanson but the underlying factors reflect the underlying problem of the so called "separation of powers" in Queensland. Australia. Another excellent example of abuse of power is at this link - in which we record the shreddergate debacle - a page that the Beattie Government wish would go away - but it won't.

When one views this CD you can see how the message of the "people's party" was destroyed by the system in its own best interests - big business and gutless, self-serving politicians.
This is an author.com.au publication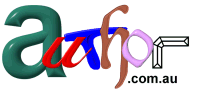 Scribbles Global Web Builders Strachan and Co FijiBure.Com EmailStaff thenetpics thestoryofus Author Woman to Woman The net pics