One Nation Fund Raiser -
21st August 1998

Commentary by Scott Balson (seen right with Pauline Hanson), Global Web Builders
About 100 party faithful gathered at the Carine League Club south of Brisbane last night.
It was a wet and busy night at this large sporting complex with the car park being full and the light rain that fell making for an interesting start to the evening. However, it did have the positive effect of keeping any protesters away.
As Neil Jorgensen, One Nation's federal candidate for the seat of Griffith remarked in his speech that evening - the News Limited's South East Advertiser broadcast the details of the private dinner at the club on page two that week with the desired result of getting a few cranks to try and get the club's owners to cancel the event earlier that day. The paper had studiously ignored One Nation prior to this... good example of fair and balanced reporting.

When my wife and I arrived at the Chadwick Hall we were greeted by Neil and several other familiar One Nation personalities. Pauline Hanson had not, as yet, arrived. The helpers at the door (seen left) were doing a brisk trade at $50 per head!

I was able to catch up with Vanessa Stewart, (seen in the foreground on the right) the young 21 year old President of YOUNG Nation's Development Committee. Vanessa has worked tirelessly for the party over the 12 months and is the federal candidate for Moreton. YOUNG NATION is the youth arm of One Nation and for supporters aged between 16 and 30 years of age.
Vanessa immediately latched on to the idea of participating in the discussion group forum that I had established for One Nation. But what we agreed to do is to establish a separate forum for YOUNG NATION. Through this forum she would be able to chat exclusively to young supporters on issues that concern them.
Details on joining the forum are available here.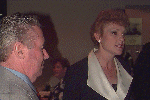 Pauline Hanson arrived at about 8pm, just before the function was to officially start. By this time most people had claimed their seats and now gathered in small groups talking about the upcoming federal election. The Coalition's GST was a hot topic.
I was able to get Pauline's attention for a few valuable minutes to discuss issues which had been raised on the One Nation discussion forum.
While Pauline circulated with old acquaintances, supporters and friends I snapped away with my digital camera (Kodak DC50):
Pauline with Neil Jorgensen in image on left, and with a fan under the Australian flag.
It was time for dinner and time to get a few happy snaps of some of those who had come to the event:
Those seated at the main table included:
Pauline with Brian Annear (left) and Neil Jorgensen (right); Peter (state director) and Lynn James.
After an excellent three course meal Brian and Neil gave short speeches on the upcoming election. With Brian as MC introducing Pauline Hanson for the main speech of the evening.
Pauline started off by talking about the last 12 hectic days during which she had seen all corners of Australia. She revisited her impact at the One Nation stand at the Gunnedah (New South Wales) AG-QUIP show on the 19th August.
"The local newspaper was to report that there were between 300 to 400 people packed around the One Nation stand while I was there. When we left we saw Tim Fischer with five other Nationals behind an impressive and large stand - but no-one coming to talk to him - the group being left to talk between themselves."
She talked about her visit to Western Australia and in particular the evening at Brand (Labor leader Kim Beazley's seat). "Over 1200 people came to that meeting. Surveys have shown that One Nation is polling 46% in Brand and Beazley will lose that seat. He is, in fact, looking to move to another safe seat.... in WA."
On Tasmania: "We now have 23 branches in Tasmania".
On Victoria: "After I was barred from attending the meeting at Hawthorn I went to Sale wher 950 supporters flocked to learn more about the party. we will pick up some seats in Victoria. We already have some MPs running scared with quite a few waiting to get out of it (being in politics)."
"The media have made much about our 6% poll in the recent by-election in Northcot, Victoria saying that it shows we are in decline. This at a time when Victoria was shown to be our worst state with polls stating we had just 2 to 3% support there. We only decided to run a candidate on the day the nominations closed. We had no money for a big campaign.Northcot has a large ethnic community and we face a very biased media. On top of that Jeff Kennett (the Liberal Premier) sent a letter to every household in that electorate telling them to give their Liberal vote to the Democrats. I think we did darn good."
On National leader Tim Fischer's seat of Farrer: "Polls reckon he has just 33% support (down from 66% in 1996) - One Nation currently has 26%. He need our prefernces to retain his seat. I don't fancy his chances (of getting our preferences)."
On the Queensland State Election: "Two weeks before the Queensland Election surveys claimed we had just 10% support yet we polled 23%. If you take the eleven seats that we did not contest into account we actually polled 27%!"
On Australians: "Australians are now standing up and at last being counted. Australians are tired of being apathetic. The Australian flag on the wall here tonight represents the lives of those who have been sacrificed for what we enjoy today and that must not be destroyed."
On immigrants: "If you come here join us, be one of us. I don't say forget where you have come from that will always be with you. I do say remember where you are now."
On Multiculturalism: "Multiculturalism will destroy us. We cannot be Greek Australians, Turkish Australians, Vietnamese Australians - we are all Australians. I am saying that we are a multiracial society, however multiculturalism will divide us."
On ATSIC: "Charlie Perkins recently bought a Au$1.25 million house. Aboriginals call Charlie Perkins "Coconut" - White on the inside but brown on the outside.
"ATSIC, the Aboriginal industry or Mafia is today being run by lawyers - people creaming off the system. But you cannot question it or you are called a racist.
"One Nation will help people on an individual needs basis not a race basis."
On taxation changes: "We will cut Capital Gains Tax out after two years on a business because if you put the hard work in you should reap the benefits."
On de-regulation: "One Nation is totally against de-regulation of pharmacies, newsagents and petrol stations. Big shopping centres today have 86% of the market share. We want to pull back on that.
"We want big retailers (like Woolworths) buying up the farms (goods) and cutting out the small player."
On the GST: "I do not support the Howard/Costello GST. When Howard says everybody wins - how can everybody win? Someone's got to lose!"
On do-gooders: "We give free needles to the drug addicts but we cannot afford to give free needles to diabetics. We need to get rid of some of the do-gooders. I will build prisons out in the middle of the desert."

On our defence force: "How good is our defence force when even an Indonesian fishing boat can outrun the Navy - it's a real worry!"
On the next Federal election: "I predict that it will be on October 17th."
After her speech Pauline Hanson was approached by the bar staff at the Carine League Club who wanted to get her signature and be photographed wth her.
Pauline, as always, was happy to oblige.
Oh, and by the way, I was fortunate enough to win first prize in the raffle - about Au$300 worth of groceries!
A great evening enjoyed by all. We left at about 11pm weighed down with groceries!