Leaving Brisbane for Melbourne
Saturday 8th November 1997

Seven year old Alex Balson's "Alex's Scribbles - Koala trouble" had once again been selected as a finalist in the 1997 Australian Financial Review/Telstra national Internet awards. Alex's website had won the category for best web site for children under 15 years the previous year in the inaugural event.
This year the awards were being held on Monday the 10th November at the Grand Hotel in Melbourne.
Young Alex and I boarded an Ansett jet (AN67) at Brisbane airport at 11.30am. It was an uneventful flight with touchdown some two hours later at Melbourne airport. Because of the one hour 'daylight saving' summer disparity in time between the Australian states of Queensland and Victoria we had actually lost an hour and our arrival was at 2.25pm.
We took a Skybus from Melbourne Airport to Spencer station which was, luckily, just a few hundred metres away from the Kingston Hotel where we had booked in for the few days we would be staying in the Victorian capital. Loaded down with luggage we struggled up to the hotel in tree-lined King street.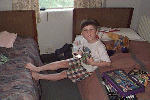 There was nothing remarkable about the hotel, nor the room, but there again at just $45 per night twin share and 5 minutes walk from Melbourne's Bourke street mall it was a bargain.
Alex and I took a little walk around the block before returning and having a light snack at the French restaurant next door to the Kingston.
It was twilight - probably about 6.30pm Perth time when we turned in for bed. It was to be a noisy night. Our small third floor bedroom seemed to capture every sound in the street below and magnify it ten-fold for our edification.
Poor Alex, on about five or six occasions during the night he said that he could not sleep because of the noise - but he did.
We were up the next morning at about 7am