The launch of
"Murder by Media, Death of Democracy in Australia"
22nd January 1999
Commentary by Scott Balson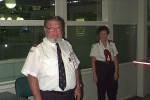 It was 3am when the alarm rang.
By 4am I was at Brisbane domestic airport - checking in. As can be seen on the right I wasn't the only early riser.
Yes, I know it's an unearthly hour but that's what happens when your flight to Sydney leaves at 5am.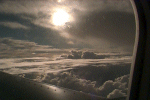 The flight itself was uneventful - arriving in a very wet Sydney which put paid to my plans to hold the launch outside the Channel 9 gates. Luckily I had organised the alternative option sent out to 50 media outlets in Sydney the day before - the launch would be held nearby in the Campbell room of the Twin Towers Motel in Artarmon.
Press Release - 21st January 1999
Australia's media under fire.
EMBARGOED until 1pm Friday 22nd January 1999
The official launch of the book: "Murder by Media, Death of Democracy in Australia" (ISSN 1441-6476) will take place outside the gates of the Sydney Channel 9 television station alongside Artarmon road at 1pm on Friday 22nd January 1999. In the event of rain at this time the launch will be re-located to the Campbell Room at Twin Towers Motor Inn, 260 Pacific Highway, Artarmon.
The book has been written by Scott Balson, the Internet webmaster for Pauline Hanson's One Nation. It has been published by Interactive Presentations Pty Ltd. Balson will address the media at the launch.
"Murder by Media, Death of Democracy in Australia" is based around three years of research that the author has undertaken privately on the Internet and by assessing thousands of articles and "opinion" pieces that have appeared in Australian newspapers. It is important to note that the book is written in Balson's private capacity and has had absolutely no input from anyone in executive roles at One Nation at either a state or federal level neither has it been sanctioned by the party. The book heralds the arrival of a new age as we pass from the information age into the age of enlightenment. The author believes that a growing number of books like this one will be published as we move into the 21st Century. They will, amongst other media-reviled "populist" issues, challenge the often nonsensical opinions being presented by the media - using the globally available resources of the Internet as a backup reference medium.
"It is my belief that the time has now run out for many journalists and editors in Australia," said Balson. "They have usurped their right to be upholders of freedom of speech and custodians of objective and balanced reporting. Simply put, they have failed dismally.
"'Murder by Media, Death of Democracy in Australia' clearly challenges their track record in recent years - Hanson and One Nation make the basis of an excellent case study on this subject. For objective, honest journalists the information carried in the book should be of serious concern.
"As Thomas Jefferson said in 1819: 'Advertisements contain the only truths to be relied on in a newspaper'. His words, unfortunately, still ring true today.
"What Australians must not lose sight of is that journalistic ethics today are seriously compromised because there are not many options left for a journalist who upsets the duopoly of Packer or Murdoch.
"Australia under the polarised Packer/Murdoch media empires has lost democracy in the true sense of the word. This book looks behind the scenes and exposes just how this new Australian order of big business behind the major parties control and manipulate the political system to their own benefit."
Book stats: Approx 120,000 words; 272 pages; 40+ colour photos, over 400 links to the Internet.
Copies of the book will be sold at the launch. Balson will attempt to deliver a complimentary copy to Jamie Packer through the Channel 9 reception after the launch. A copy of his letter to Mr Packer will be included in media kits to be handed out.
The book may be ordered online at: http://www.gwb.com.au, or by sending a payment of $27 (which includes postage) to S Balson, P.O. Box 11, Mt Crosby News, 4306, QLD or by visiting your nearest Dymocks book store - our national distributors. The author will be signing books at the George Str branch of Dymocks on Saturday 23rd between midday and 2pm.
Media enquiries may be directed to Scott Balson on 07 3201 1353 (or 015 477 609 or 9439 1388 while the author is in Sydney 22nd to 24th January)

By the time I had got through the Sydney traffic jams it was approaching 10am. Just time to shower and change before the arrival of Shondra Briton who had looked after the planning of the launch venue.
Shondra and her father Paul arrived at 11am and we got down to final planning - preparing the Campbell room etc...
By 1pm (launch time) it became apparent that the media were not planning on being there to hear what I had to say.
There was just one representative from the media and, on leaving, he refused to identify himself saying that he was a freelance reporter.
Photos were taken of some of some of those those who attended - and the "gimmick" of the best use of a newspaper went unseen by a media which failed to appear. Left to right: Shondra and Scott; David Ettridge, Steven, Shondra and Paul Briton... and the fish and chips.
The address to the non-existent media:
Good afternoon ladies and gentlemen of the press
In 1819 Thomas Jefferson said "Advertisements contain the only truths to be relied on in a newspaper." His words unfortunately still ring true today.
The book I am launching heralds the fruits of the new information age - information through the powerful resource of the Internet. We have now moved on and have entered the age of enlightenment.
I put the politicians of today on notice that this is an age in which they will be found to be wanting. The Australian people will soon be in a position to judge them and their performance as we move into the 21st Century. Their lies and backroom deals with rich and powerful partners will be exposed more and more through the Internet. There will be no place for them to hide.
This is an age in which many bureaucrats will be brought to heel. An age in which the shadowy, all powerful committees which pander to the power brokers who feed off the table of the likes of Packer and Murdoch will find their confidential documents and minutes falling off the back of trucks so thick and so fast that the sea of paper will engulf them and reveal their sins as they are published.
This is an age in which the traditional media's careful management of people's perceptions as well as their carefully managed perception of what is news will fall from their steely grasp.
This is an age in which rich and powerful media barons will find their undemocratic, polarised empires of self-interest being dismembered and being distributed to Australians of all creeds, colour and religion. This change in media ownership laws will be brought through a "populist" revolution rising against the hideous front line of elitism that runs rampant over Australian democracy today.
This revolution will come about as more Australians participate on the Internet and discover just how hideous, just how criminal, just how blatantly dishonest the elites have been in their dealings with the mums and dads of this country. And how the media's role has been to cover up the truth.
This book is but a starting point. If I hadn't done it someone else would have, and I won't be the last.
In this book the reader can discover how a handful of rich men and women in this country:
· dictate state and federal policy;
· use their political and bureaucratic mates in government to manipulate licensing laws that are changed specifically to meet their own greedy aims;
· rape this country by not paying their fair share of taxes;
· use native title to generate enormous wealth from government revenues;
· push globalisation and international treaties as good and unstoppable while covering up the tragic social consequences of the accompanying baggage such as economic rationalism;
· use the media to blacken the name of those who would bring some semblance of equity back to this country;
· above all it clearly demonstrates the shameful state of journalism in Australia.
Readers will discover how the politicians of today
· create bureaucratic empires of multiculturalism and political correctness to shore up their flagging vote;
· play footsy with the rich and powerful and gain favours in return. They do this while arguing that they represent "accountable" government. Readers will learn just who they are accountable to.
When John Howard called Kerry Packer "just another Australian voter" weeks before the October federal election he lied and he knows it. Packer, like Murdoch, is no ordinary Australian voter he can demand and get an audience with the Prime Minister or anyone in his cabinet. And it matters not if that government be Labor or the Coalition.
In fact none of the media barons like Kerry Packer or his son James, Lachlan Murdoch or his American father Rupert, are bona-fide Australians. They are Trojan Horses - multinationals. Their wealth floats like a bad smell across geographic boundaries seeking out the biggest financial return. No man with Kerry Packer's wealth can pay just over $30 in tax over three years and be an Australian it takes a massive web of off-shore trusts and family companies in tax havens to achieve this goal.
The media today is an instrument of greed which divisively promotes the lifestyle of "Macjobs" for the general Australian population - namely jobs with low pay and no future as the media barons push for the global level playing field and increased personal power and profits.
These and other rich families should be despised not glorified by the media, they should be put on public trial in the traditional media for their outrageous un-Australian behaviour but they are not because they alone today control it.
The tragedy is that there are a growing number of members of the press who are willing to sell their souls to the men who control these empires. They do this openly and unethically in a country where journalistic ethics are about as fair dinkum as the flat earth society.
I appeal to members of the press to realise that they will also personally be put on trial by the people of Australia in the 21st Century as the Internet revolution exposes their smallest lie, their most brazen deception as their every written word is carefully analysed. Today the small handful of Australians undertaking this work will grow into an army of thousands and you, as journalists, will like the politicians and the media barons have nowhere to hide.
For many of you in the traditional media it will already be too late as more and more Australians judge you and your motives. By freely surfing the Internet they will get to know from articles written years ago and by following subsequent history who among you have been less than honest and ethical.
The 21st Century, I believe, will see the greatest sociological change in the history of mankind.
The age of enlightenment is upon us as we move beyond the information age. The new leaders in our society and government will be far removed from those of today - they will be populist based. The enormous changes brought about by the office computer to our workplace in the 80s and 90s will appear as but a ripple, a breath of air, a passing moment in time when compared to the storm that will blow with ever increasing intensity around the heads of those who are today responsible for the death of democracy in Australia - a storm which will herald a calm new age of true democracy.
I personally wonder what it will take to drum into the one-eyed members of the press that the bluster and lies being force-fed to the population denies the reality that their mood towards the traditional media has changed.
This book with over 400 optional links to the Internet will give further credibility to this mood swing of this growing army of Australians revolting against today's media. It is but a tiny cog in an evolving thrust of populist driven enlightenment that will be created by the desire and the will of the people to know the truth and the media better sit up and take note because this book is but the beginning.
I give you "Murder by Media, Death of Democracy in Australia".
Welcome ladies and gentlemen of the press as the door opens on the age of enlightenment.
After the launch we had a pleasant lunch and then I had a rest in my room at the Twin Towers prior to the interview on 2GB with Brian Wilshire (right below).
Shondra and her father Paul (a Wilshire fan) had been okayed to come in and watch the interview. They gave me a lift to the radio station - situated on the 9th floor of a central city block.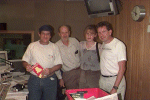 The interview went well with a number of callers supporting the view that there is a problem with the media in this country.
After the interview Brian posed with us as a group.
Being 10pm on a Friday night I asked Shondra if she would act as a guide - and for a while she took me around "The Rocks" - before i retired back to my hotel.
Saturday 23rd January 1999:
It was early to rise and a day engrossed in the newspapers - not a word about the book launch. In the Australian media (except for Brian Wilshire and 2GB) it never happened.

I spent much of the morning wondering around Sydney before going into the George Street branch of Dymocks in preparation for the book signing between 12noon and 2pm.

The signing went well with several people who had heard the Wilshire interview coming in and buying the book.
At the end of the two hour session about 20 copies of "Murder by Media, Death of Democracy in Australia" had been signed.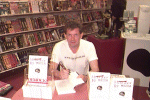 The rest of the afternoon was spent at the hotel watching cricket when an invitation from Shondra to see a film "Enemies of the state" was warmly accepted.

I caught a taxi to the Macquarie Shopping Centre to see the film and then returned home after a light meal.
Image right Shondra at the Macquarie Shopping Centre...
Sunday 24th January 1999:
No images here - because I left my digital camera at the Macquarie Shopping Centre Cinema. (Thanks Shondra for getting it!)
The trip back to Brisbane was quite eventful. Firstly I had a search for my digital camera when I realised that it was missing. Luckily I was able to track it down through the Macquarie Cinema Complex Management.
Secondly the flight QF522 was delayed for an hour.
Thirdly because on arriving in Brisbane I discovered that my suitcase had gone missing.
It was returned to me the next day after it apparently landed up going to Perth. Funny thing though someone had searched it.