So why does Chris Mitchell side with PM Kevin Rudd implicated in shreddergate?
NOTE: Christine Jackman and Chris Mitchell separated in late 2008 with Jackman returning to Brisbane with her two young boys fathered by Mitchell (Mitchell lives in Sydney). Of course none of this has been reported by the mainstream media. Just why did Jackman leave Mitchell?.. the truth, from a very reliable source, is apparently rather disturbing. Watch this space.
Original Crikey.com article at this link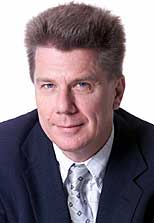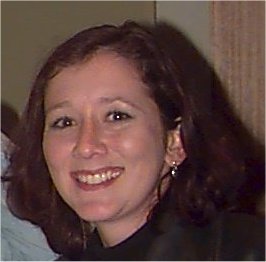 Mitchell (left above) follows Murdoch's lead taking a younger wife in 2004: Christine Jackman
Jackman posed for me in this photo taken in 1998 when One Nation won eleven seats in the QLD State Elections.
The fellow by her side is Jeff Summerfeld another reporter from The Courier-Mail.
Jackman's daughter to Mitchell has Prime Minister Kevin Rudd as Godfather... give me a break!
Crikey article....
If you're an editor who has some awkward news about to break elsewhere, more often than not the best option is to spin it positively first in your own publication.
And so it was with The Australian's editor-in-chief Chris Mitchell in today's Strewth column when the following appeared:
The Ruddfather
Asked by the Crikey news site whether he was Kevin Rudd's godson, The Australian's editor-in-chief Chris Mitchell provided an unarguable answer. "That would be unlikely," Mitchell replied with some asperity, "since I am older than Kevin".
It is true, though, that Rudd has been the godfather of Mitchell's 20-month-old son Riley for a year – a connection born of the small world of Queensland politics and journalism.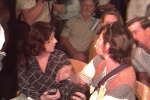 Mitchell's wife, journalist Christine Jackman, wrote the profile of Rudd published in last weekend's The Australian Magazine. The piece was rushed into print, with the disclosure running in the newspaper rather than the magazine itself.
Image right: The Courier-Mail's Christine Jackman (left) with Fairfax reporter Margo Kingston when they ambushed a private One Nation meeting in 1998 and refused to leave.
The "disclosure" about the connection between Rudd and Jackman/Mitchell turns out to be these words accompanying Jackman's article on page 4 of The Weekend Australian: "The reporter and her family have known the Rudd family since before Mr Rudd entered politics."
Crikey first broke the story of Mitchell leaving his partner of 20 years, The Australian's magazine feature writer Deborah Cassrels (Deborah's mobile phone number is 0421 274727)*, and taking up with younger reporter Christine Jackman in September 2004. In January 2005, we broke the story that they were engaged and expecting, just as a storm was erupting about a Christine Jackman feature on Mark Latham.
So why on earth would such a couple select Kevin Rudd as godfather? The Australian is now severely compromised -- ever further compromised by Mitchell selecting his wife to write a glowing magazine profile of the godfather of their child.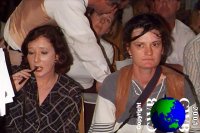 The Murdoch empire has long sidled up to favoured politicians -- but this is ridiculous. Given Sir Rod Eddington's loving embrace of Kevin Rudd -- the former Ansett and British Airways chief is a powerful independent director on the News Corp board -- are we seeing one of those famous Murdoch political switches?
Image left of Jackman (now Mitchell) looking oh so elegant as she refuses to leave a private political function.
Most editors and publishers would never publish anything remotely critical about someone who was godfather to their child, yet Mitchell and Jackman have placed themselves into such a position.
Then again, Rupert Murdoch has reportedly come to an informal arrangement with Tony Blair about a lucrative book deal on his memoirs, so nothing should surprise when it comes to the Sun King and politicians.
End of Crikey Article
---
* It was Deborah Cassrels who wrote the article "Ethics and the web" in 1999 when she and Mitchell worked at The Courier-Mail - the article falsely claimed I was anti-semitic.
Jackman looks innocent in the pictures above but consider these words tabled in the Federal Parliament not long after she had hooked up with Chris Mitchell:
Mr LATHAM (Werriwa—Leader of the Opposition) (1.50 p.m.)—Mr Deputy Speaker, I wish to raise a matter of privilege. Yesterday a senior member of my staff received a threatening telephone call from Ms Christine Jackman, a journalist with the Australian newspaper. She issued a number of threats in an attempt to unreasonably influence my conduct as a member of parliament, trying to force me to take action against one of my parliamentary colleagues, the member for Lowe. I regard the suggested action as totally unnecessary and improper. As per House of Representatives Practice, page 711, I believe that privilege has been breached with regard to myself and my colleague. House of Representatives Practice states: To attempt to influence a Member in his or her conduct as a Member by threats, or to molest any Member on account of his or her conduct in the Parliament, is a contempt ... So too is any conduct having a tendency to impair a Member's independence in the future performance of his or her duty, subject, since 1987, to the provisions of the Parliamentary Privileges Act. I ask you, Mr Deputy Speaker and, through you, the Speaker, to consider the Jackman contempt. I believe that privilege has been breached in relation to myself and the member for Lowe.
Mr MURPHY (Lowe) (1.51 p.m.)—I wish to raise a matter of privilege. I feel intimidated following a telephone conversation I had this afternoon between 12.10 p.m. and 12.40 p.m. with Ms Christine Jackman, a journalist with the Australian newspaper. Mr Speaker, you will recall that last Tuesday evening at 9 p.m. I made a speech in the House of Representatives concerning an article written by Ms Jackman and Mr Cameron Stewart in last weekend's Australian about the Leader of the Opposition and a letter from the director of the media unit of the Leader of the Opposition on Tuesday to the Australian in response to the weekend article. Ms Jackman called to complain about my speech. I told her that I stood by what I said in this House. In the course of my conversation with Ms Jackman, she made threats against the Leader of the Opposition. I told her that I would not be intimidated in that way. I regard this as a breach of privilege as per the earlier statement made by the Leader of the Opposition.
PDF of Hansard at this link (see page 66)