Memorandum not issue in investigation: CJC officer
By Emmaline Stigwood, Lyla Nicholson & Ali Khan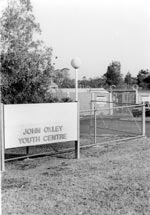 The John Oxley Youth Centre
Photograph: Eileen Lee

A MEMORANDUM suggesting the safety and lives of children in the John Oxley Youth Centre were at risk was not an issue for the CJC to consider during its investigation of the Heiner shredding, former CJC chief complaints officer Michael Barnes said.
The memorandum, written by the then acting manager of John Oxley, Ms Anne Dutney [see separate story], concerned the action of a number of youth workers at the John Oxley centre.
According to the memo staff slept on duty, supplied unauthorised prescription medicine and paracetamol to a suicidal resident, were incompetent due to illness and had allegedly assaulted a resident.
Mr Barnes said he was unable to determine whether he had seen the memorandum during his investigation as he was looking for different documents at the time.
"It wasn't ever the role of the CJC to examine whether John Oxley had been properly administered or whether the inquiry set up under Heiner had done its job or anything like that at all," he said.
At the time of the investigation in 1995 CJC chair Rob O'Regan told the Senate inquiry that the matter had been investigated to "the nth degree".
However, an FOI search earlier this year produced the memorandum and other documents that were never investigated.
In preparation for the Senate inquiry Mr Barnes visited the Department of Families to examine files on the shredding.
He also reviewed files regarding the matter at other government agencies.
However, Mr Barnes said his role at the CJC involved dealing with actual complaints, not potential or possible complaints.
"We were there to address certain specific questions," Mr Barnes said.
"There are always other documents that you could find, other documents and people that could be interviewed which might raise issues that could be investigated by another body. But that's not something that the CJC could ever do.
"I went looking for documents that I needed to find to address the points that the parliamentary committee was raising," Mr Barnes said.
Mr Barnes also said that two Brisbane barristers appointed to investigate the shredding "had access to every document there and they raised no questions about these issues".
In their report the two barristers, Tony Morris, QC, and Eddie Howard, recommended a full and open public inquiry be held into the shredding.
They also said it was open to conclude that a range of breaches of the law had occurred in connection with the destruction of the Heiner documents.