CITY COUNTRY ALLIANCE
PRESS RELEASE
22/12/99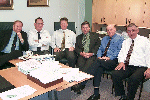 New Political Force Born
City Country Alliance - Queensland will be the new name of the party founded by former One Nation members, Bill Feldman, Peter Prenzler, Harry Black, David Dalgleish, Jack Paff, Ian Petersen, Heather Hill and Graham McDonald.
Executive Director Ian Petersen said today that the five parliamentary members had been instrumental in identifying the plight of rural and regional communities and had been working tirelessly to improve the lot of country Queenslanders. "Their achievements have been absolutely outstanding, and the change to a new entity was necessary to allow them to get on with the job". "We also recognise the enormous contribution of small business operators who operate in the cities as well as in the bush", he said.
"We are the ones who have strongly opposed the deregulation and corporatisation which has been so damaging for rural families. We have led the attack on National Competition Policy forcing a complete about face by the major parties, and we have been the social conscience of the parliament pushing for the retention of traditional family values", said Mr Petersen.
"Support for the new party has been absolutely overwhelming, with calls from all over the State, and in fact, from all over Australia. We have a great team in Parliament and are assembling a dedicated group of people to ensure that we will move forward to represent those industrious and resourceful Queenslanders who have been, and always will be, the backbone of our economy, and the foundation of our culture", said Mr Petersen.
"The name City Country Alliance underlines our concern for farmers, workers, and small business operators, and flags the fact that we will be seeking to address the "them and us" perception between the city and the bush", said Parliamentary leader Bill Feldman. "The city and the country are dependent upon each other, and it is essential that there is an understanding of the importance of a strong rural and regional economy".