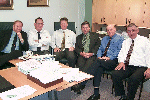 Formed in December 1999 by five former Pauline Hanson's One Nation Queensland MPs (image right: L-R: Bill Feldman MLA (Parliamentary leader), Ian Peterson (political adviser), David Dalgleish MLA, Peter Prenzler MLA, Jack Paff MLA, Harry Black MLA).
Foundation signatories include Graham McDonald and Heather Hill.
Be informed! Join the Alliance mailing list, email us... nominate your state in the subject line.
Contacts at the City Country Alliance:
Parliament House Phone: 3406 7738
Bill Feldman: 0419 673 048
Dr Peter Prenzler: 0408 071 870
Harry Black: 0419 744 283
David Dalgleish 0412 117 815
Jack Paff: 0418 795 096
Ian Petersen: 0417 615 231
Heather Hill: 0418 983 862
The City Country Alliance website is proudly sponsored by Global Web Builders