Dick Smith comes to town
6th June 2000
Report by Scott Balson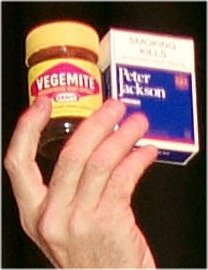 The first notice of the launch of Ausbuy (linked to their web page) in Brisbane came through the Internet.
Weeks before Jeremy Lee had referred to the event during our tour of Queensland.
The guest speaker was the inimitable Dick Smith - of Dick Smith Electronics fame...
His trademark on the issue of buy Australian being the image right - cigarette company Phillip Morris who have bought Australian icon Vegemite (a kids health food) while promoting their cigarette brand Peter Jackson to Aussie kids.....
bloody ludicrous!
Over 1,000 people filled the Brisbane City Hall to hear Dick Smith speak and they were not disappointed.
Interestingly a large percentage of those who attended were ex-One Nation supporters - who are today probably the best informed Australians when it comes to issues such as globalisation and the negative effects that it is having on us all. In fact there was an air of expectancy among an audience which included a much larger number of younger people than traditionally attended Hanson's meetings. The mood was more somber, more urgent.
Images below: Part of the 1,000 plus audience filling City Hall, I meet Dick Smith, go Aussie go and, Jeremy Lee with sister Nancy and Chris Brazel (Jeremy's poem "Flogging off the Tucker Box" was presented to Dick Smith after he had spoken).
Images below: Dick Smith seated next to a young lady who sang the national anthem; the MC promotes AusBuy and awards Caboolture retailer Jeff Anncliffe with a special award for being the first businessman to clearly mark Australian made products in his store. Anncliffe was recently threatened by a Jewish owned wholesaler, Davids, that they would stop supplying him unless he stopped his "Australian-owned" marketing labelling.
Australian owned Toowoomba-based bus service, McAfferty's, came to Anncliffe's aid with the full force of AusBuy's 10,000 plus paid up members and warned the wholesaler to back off. They did.
Dick Smith addresses the crowd.
After he had spoken Jeremy Lee's poem, in framed poster form, was presented to Dick Smith. Here are the words:
Flogging off the Tucker-Box (Jeremy Lee)
The dog sits on his tucker-box,
He's getting good and mad!
"The country's going to OTHER dogs,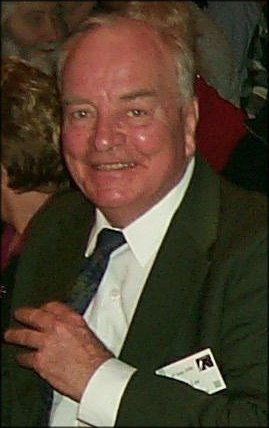 It's getting flamin' bad!
They're selling out Australia -
It makes you wonder why?
The tucker-box is foreign owned!"
Said the dog from Gundagai.
"They're sellin farms and factories,
A million out of work!
From Sydney-town to Adelaide,
And way out back o' Bourke!
It's time that true-blood Aussies -
And that means you and I -
Stand up and guard the tucker-box!"
Said the dog from Gundagai.
"In ten year's time what happens
If we don't take a stand?
Who'll own those jolly jumbucks
Across our native land?
Who'll run our mines and factories?
Who'll pay our kids the dole?
Which bank will own your mortgage?
Who'll own you - heart and soul?
"Who'll pay your flamin' wages?
Who'll make you pay the rent?
Who'll tell your kids what happened?
And where their freedom went?
Or can that Digger spirit,
A bit o' do or die,
Get back that flamin' tucker-box?"
Asks the dog from Gundagai.