Beattie frightened to answer Balson on Australia Day - 26 Jan. 2000

by Scott Balson (right)
An overcast day in Brisbane... and here I was in Logan Central's main park.... among a group of about 150 who had come to a sausage sizzle hosted by the Australian Labor Party.
My interest was this invitation sent out by Mike Kaiser the ALP's state secretary - now candidate for the seat of Woodridge which had been vacated just weeks before by Bill D'Arcy the man facing about fifty child sex charges.
It didn't tale long to find Mike Kaiser he had a fixed politically-correct smile attached to his face... mouth open like a fly catcher looking for a job.... there weren't many flies around in Logan that day so I guess Kaiser's greatest ambition missed the mark.
Images below Kaiser poses with his family for me and in close ups before he realises who I was (note the tomato sauce cap attached to the bottle in family photo opportunity pic on left...)
For those @notd readers who are not familiar with Logan it is near the "Asian capital of Brisbane" namely Sunnybank. I counted only four Asians in the gathering.
In a most racist and politically correct stage show Kaiser approached the Asian lady in the pic below to meet Premier Peter Beattie and, of course, she did at a time when the Channel 9 television cameraman was in attendance.
Image left - not one Asian in sight at the sausage sizzle, right - Kaiser invites an Asian icon in the playground nearby to meet Beattie.
By this time the word had got around that all was not right at the sausage sizzle.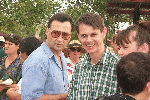 The Labor Party's Craig Emmerson was acting out the perfect epitomy of Peter Sellers at the classic "The Party" with "the daaaauuug" being replaced by conspiracy theory type reactions to the attendance of "enemy forces".
Image right Labor's Craig Emmerson with Woodridge hopeful Mike Kaiser.

As you will see later in this article Emmerson's reactions to my attendance was not what one would expect from a Federal MP.
There was a welcome arrival before the state's Premier, Peter Beattie. It was Gary Wilkins with his wife Brita and young daughter (left) who represent the City Country Alliance as an Independent pending the registration of the party in the ex-D'Arcy seat of Woodridge.
Just after 4pm there was the only announcement of the day. The police were ticketing cars parked in "No Parking" zones... several people were seen making a hurried departure in an attempt to save themselves from the dreaded grey men.

The big moment came. Beattie had arrived. For one inexplicable moment while on the mobile phone he appeared camera shy as he his behind a tree... but he did not disappoint his emergence minutes later was greeted with a rousing cheer from the handful of Labor faithful who clapped their hands and cheered enthusiastically while the other 125 people at the sausage sizzle took no notice.
Even Pauline Hanson at her recent disastrous Oakey meeting had attracted more support.... I had to pinch myself as this was the state's Premier.

As Beattie started mixing with the "free meal" crowd I approached him and, incredibly, was able to slip past his minders and tap him on the shoulder.
He turned around and looked at me. I said, "Mr Beattie, Scott Balson," shaking his hand as he still didn't understand who or what I was.
I raised the Lindeberg Petition while the Channel 9 cameraman focussed on us. "What are you going to do about the Lindeberg Petition," I asked Beattie.
He looked away.
I repeated the question louder this time as the state's Premier, sadly, looked for someone else to speak to with Channel 9's cameraman capturing each moment.
Beattie once again had proven to me what a shallow little man he was.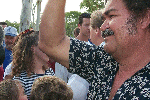 While Beattie avoided my question his politically correct little thug - the man seen on the right moved between me and the Premier. Another walked past trying to knock my camera out of my hand.
Shortly after this picture was taken this Labor-voting Islander (right) tried to intimidate me by shoving me around and verbally abusing me.... but he picked on the wrong person and the argy-bargy that resulted should have made the news that night but didn't.
It was time to leave.... this is where Labor's Federal MP Craig Emmerson comes back into the picture. He sat in his car and watched as I walked to mine - recording my vehicle's registration number for purposes unknown.
Footnote: The confrontation with Peter Beattie was ignored by Channel 9 news.